Infrastructure
Bengaluru: BDA To Move Forward With Land Acquisitions As The 74 Km Long Peripheral Ring Road (PRR) Receives Environmental Clearances
The central committee last week suggested environmental clearances, subject to the BDA complying with about 20 directions.
These conditions include requirements for afforestation and rainwater harvesting.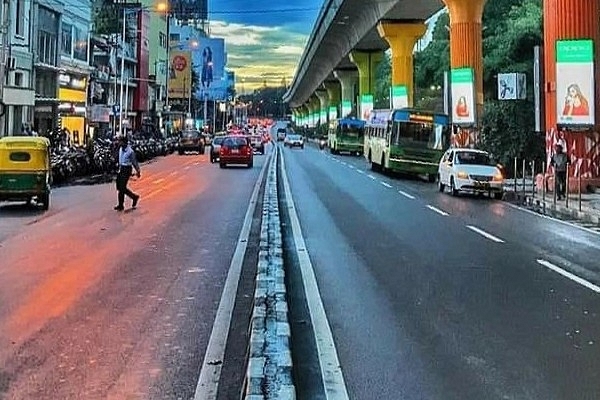 MG Road, Bengaluru (Image via Facebook)
The Bengaluru Development Authority (BDA) has finally received approvals from the Union environment committee for its proposed Peripheral Ring Road (PRR) — which had been stalled due to several discrepancies and hurdles related to environmental clearances and land acquisitions.
The 73.5 km ring road passes through six lakes and the Thippagondanahalli catchment area.
During the proposal, officials had claimed only 200 trees would be cut for the project. The number then went up to 16,685. A revised report last year put the number at 32,175 trees, reports Deccan Herald.
The BDA faced criticism for significantly underestimating the road's potential impact on the environment.
In November 2014, the state environment impact assessment authority (SEIAA) granted the first environmental clearance for the project.
However, the National Green Tribunal later nullified this clearance due to multiple inconsistencies.
Addressing to the discrepancies in environment impact data, the BDA in 2022 applied for obtaining clearances with the SEIAA again.
However, the SEIAA forwarded the proposal to the Expert Appraisal Committee under the Union Ministry of Environment, Forest Climate Change.
As per the DH report, the central committee last week suggested environmental clearances, subject to the agency complying with about 20 directions.
The BDA is prohibited from cutting down any heritage trees, and the committee has instructed the BDA to modify the road's alignment if such trees are encountered.
Additionally, the agency must reroute around trees that provide habitats for waterfowl such as pelicans and storks, while passing by or through the six lakes present in the route map.
Moving forward with the challenges of environmental clearances, the proposed road network now faces the tough task of land acquisition.
It is anticipated that over 2,400 acres of land will be bought for the route, as per previous reports.
Though the final notification for land acquisition was released back in 2007, ambiguity regarding compensation still persists.
Farmers are demanding compensation in accordance with the Fair Compensation Act, which could result in the project expenditure exceeding the estimated cost of Rs 21,000 crore.
A senior official stated, "The BDA board has sent the proposal to the state cabinet to take a decision on the land cost. It is left to the government to take the project forward".
Proposed Peripheral Ring Road Project In Bengaluru (The Hindu)
Latest