The presence of iron spikes outside one of the Mumbai branches of HDFC Bank was nothing short of a traumatising sight. Installed to prevent the homeless from sleeping there, the spikes were removed after massive backlash on Twitter. Apologising, the representatives from the bank expressed regret for their lack of empathy. However, this was not the first instance, for a few years ago, there were protests in one of Delhi's busiest markets. Turns out, a few people were against the idea of having iron rails on road medians, for that would have meant the loss of sleeping space for the poor at night.
The rural-urban convergence is beginning to show its stress on the housing industry. According to the census of 2011, the urban population surged by 91 million between 2001 and 2011. Given this was almost eight years ago, the numbers depict an incomplete picture. Projecting the shortage of housing units at 18.78 million, the housing deficit was largely attributed for the Economically Weaker Sections (EWS) in the census.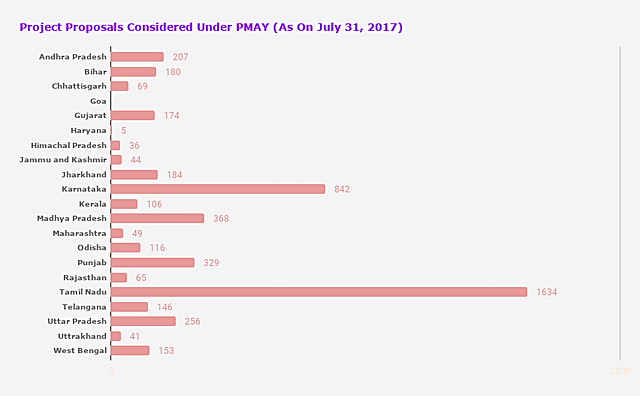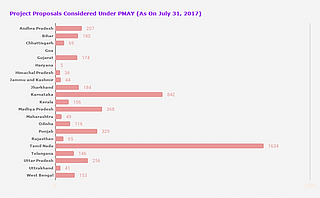 Source: Ministry of Housing and Urban Poverty Alleviation, 2017
The Pradhan Mantri Awas Yojana (PMAY), a flagship programme of the Indian government, aims to help households with a pucca house inclusive of all the basic amenities. To help population currently residing in shanties and dilapidated structures with a better lifestyle. The National Democratic Alliance (NDA) government has been quite vocal about its plans in the infrastructure domain, and the importance it holds for India in the 2020s, given they aim to achieve 'housing for all by 2022'.
Low-cost housing in the urban landscape is no longer a lucrative investment for a few, but a living necessity for many. Across India, massive inter-state migration has been witnessed as people have relocated to metros and other big cities in search of jobs, better education prospects and opportunities in entrepreneurship. In the north, cities like Delhi, Noida, Gurgaon and Chandigarh have witnessed a surge in urban population as people from Jammu and Kashmir, Himachal Pradesh, Uttrakhand, Punjab and Haryana migrated to these cities in search of livelihoods. Starting from the 2000s, cities in other parts of India also witnessed a similar trend, given the IT boom that came along. Pune, Hyderabad, Bengaluru, Chennai and Mumbai faced numerous issues when it came to urban housing, ranging from resident utilities to security and from environmental destruction to disaster preparedness and management.
According to the Technical Group on Urban Housing Shortage, 2012-17, employed by the Ministry of Housing and Urban Poverty Alleviation, the urban housing units fall short by 18.78 million. Amongst these, 10.55 million units or 56.2 per cent are needed for the EWS. Another 39.4 per cent is required for the Low Income Groups (LIG), while the remaining deficit in housing units is critical for the middle and upper-income groups, currently standing at mere 4.4 per cent.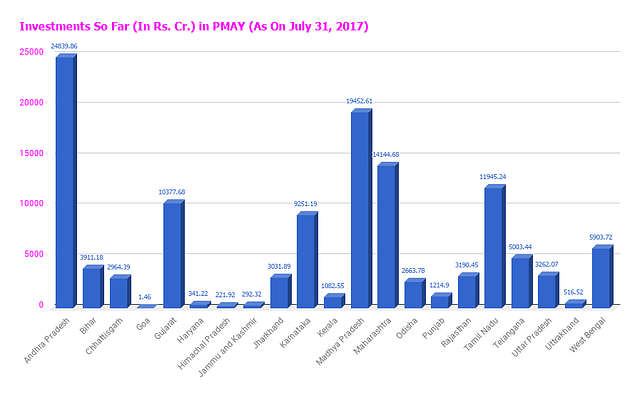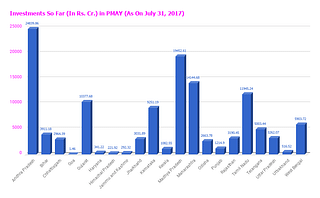 Source: Ministry of Housing and Urban Poverty Alleviation, 2017
Interestingly, only 10 states make for 76 per cent of the urban housing shortage. These include Uttar Pradesh, Maharashtra, West Bengal, Andhra Pradesh, Tamil Nadu, Bihar, Rajasthan, Madhya Pradesh, Karnataka and Gujarat, according to the report of the technical group. As on 31 July 2017, Tamil Nadu has over 1,600 project proposals under consideration, Karnataka has 842, followed by Madhya Pradesh and Punjab at 368 and 329 respectively. Consequently, Andhra Pradesh has seen the biggest investment in PMAY at Rs 24,839.86 crore, followed by Madhya Pradesh and Maharashtra at Rs 19,452.61 crore and Rs 14,144.68 crore respectively. Surprisingly, Karnataka's investment figure is around Rs 9,000 crore, less than half when compared to Madhya Pradesh and far less than that in Maharashtra.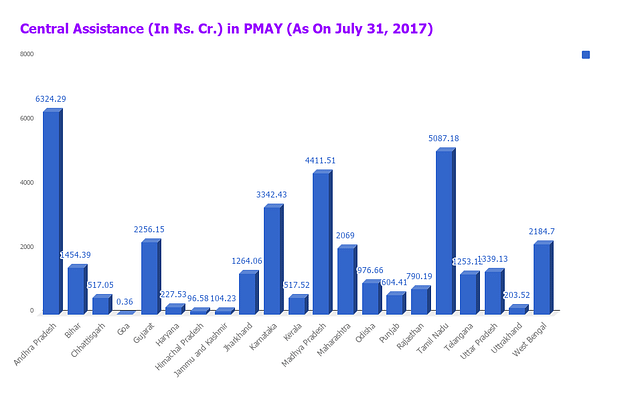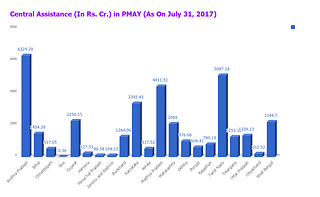 Source: Ministry of Housing and Urban Poverty Alleviation, 2017
For anyone who has been living in India's Tier-2 cities, the sight of ghost townships is not new, for many dwellings in urban areas remain unsold. According to the census of 2011, over 11 million housing units were vacant in urban India. Simultaneously, there was a deficit of 10.5 million housing units for EWS and LIG, depicting a clear mismatch in supply and demand. Before demonetisation, the housing industry had been inflated with the amount of black money that was being circulated within the system. Prime Minister Narendra Modi, in one of his discussions on demonetisation, talked about the importance of making housing more affordable for people across India. However, low-cost urban housing continues to remain a dream for many in the middle-income group even today, especially in Tier-2 cities like Chandigarh, Bangalore, Hyderabad and Pune.
The high cost of urban housing has a direct impact on the planning and management of the city. Driven by destitution, the EWS and LIG sections of the society choose to live in haphazard and underdeveloped areas. With time, illegal colonies and slums come into being, further complicating matters. Eviction in most of these cases takes a political turn, as seen in Delhi, further encouraging migrants to live in shanties. The lack of infrastructure adds to problems relating to sanitation, cleanliness, hygiene and education of the children living there. Employment for many living in these run down colonies is a slave to numerous factors, and therefore, the pressure of living in the city with extremely low wages exposes them to a life in crime.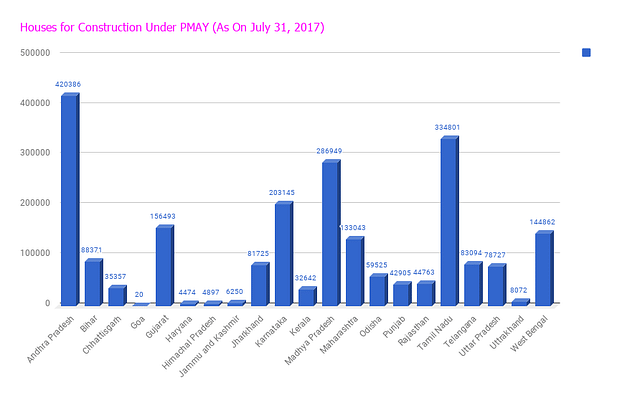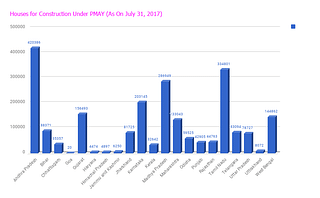 Source: Ministry of Housing and Urban Poverty Alleviation, 2017
It is in circumstances like these that one must evaluate the importance of the Pradhan Mantri Awas Yojana-Urban (PMAY-U). Central assistance is also being offered to urban local bodies and other relevant agencies via the states and union territories under various schemes. Andhra Pradesh and Tamil Nadu have been the biggest beneficiaries of assistance from the Centre under PMAY-U with Rs 6,324.29 crore and Rs 5,087.18 crore respectively. Karnataka, with 842 project proposals under consideration, has been helped with Rs 3,342.43 crore of assistance from the Centre. The generosity has been missing in major north Indian states, with Uttrakhand getting Rs 203.52 crore, Jammu and Kashmir getting Rs 104.23 crore, Haryana getting Rs 227.53 crore and Himachal Pradesh, even with its great potential for infrastructure in order to boost tourism and investments, being assisted with only Rs 96.58 crore from the Centre.
However, the Centre alone cannot be held accountable for the process for project formulation and approvals have been left to the states, as long as they are in accordance with the guidelines set under the PMAY. While this ensures demand-driven approach, as the stark contrast between Goa and Andhra Pradesh shows. While Goa had only 20 houses for construction under PMAY, Andhra Pradesh, in the same time frame, had 420,836.
Private developers have also been roped in, for they are being helped with land and incentives in order to develop demarcated plots and areas to construct housing units for the EWS and LIG sections. The responsibility of temporary accommodation for the slum dwellers, who are required to be displaced during the duration of the construction, has been entrusted to these private developers as well. Once the slums have been redeveloped, they are denotified by the urban local bodies, with the states receiving an incentive of Rs 1 lakh for every housing unit. However, slums on the private lands are excluded from this scheme.
Unlike previous programmes, the government has extended its focus to include the Middle Income Groups (MIG) also. Under the Credit-Linked Subsidy Scheme (CLSS), where an interest subsidy is offered on all home loans for upto 15 years, the two MIGs – MIG-1 (with household income of Rs 600,000-1,200,000 pa) and MIG-2 (with household income of Rs 1,200,000-1,800,000 pa) were offered an interest subsidy of 4 per cent and 3 per cent respectively. Beneficiary Led Housing Construction (BLHC), where the central assistance is essentially focussed, offers Rs 1.50 lakh for upgradation of houses in the EWS category. To avail the assistance under BLHC, the beneficiary is required to approach the relevant urban body. Alongside, Aadhar linking ensures that the subsidies are transferred without any delays or leakages and geo-tagging allows for consistent monitoring the project.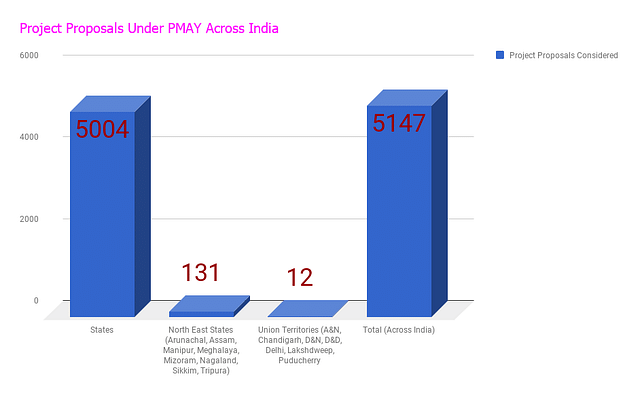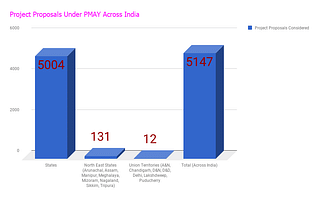 Source: Ministry of Housing and Urban Poverty Alleviation, 2017
While the central assistance under the BLHC mechanism is commendable, one wonders if something on the same lines can be made available for MIG groups, especially in states where sanitation and sustained building measures are an issue. For instance, under BLHC, an urban township could be helped with assistance to instal solar panels, enhance their sanitation, or inculcate building measures that are environment friendly.
Low-cost urban housing, fueled by PMAY, can further be strengthened by converging other missions of the government. Atal Mission for Rejuvenation and Urban Transformation, with its objective to help each household with access to water, sewerage connection, enhancing open areas and reducing pollution could become a core focus area in PMAY-U. Timely sewerage connection could bring down the cost of housing maintenance, and in the long run, could contribute to the progress of the Swachh Bharat Mission and assist the efficient management of solid waste.
Putting a housing unit together in any state should not only be about bricks and cement, but should be studied as a convergence of social, economic and environmental factors. The objective should not be constrained to giving everyone a place they can call a home, but creating living spaces that can act tomorrow as the foundation for smart cities.