The Haryana government on Monday (15 May) gave its approval to the Delhi-Gurugram-Shahjahanpur-Neemrana-Behror-Alwar and Delhi-Panipat Regional Rapid Transit System (RRTS) projects.
The approval came during the RRTS meeting chaired by chief secretary Sanjeev Kaushal in Chandigarh on 16 May.
Delhi-SNB Project
The Delhi-Gurugram-SNB (Shahjahanpur-Neemrana-Behror Urban Complex) RRTS corridor will be elevated for 70 km and the remaining 37 km underground. It will feature six underground, nine elevated, and one at-grade station. A depot is being planned at Dharuhera.
The length of the corridor passing through Delhi, Haryana, and Rajasthan are 23 km, 83 km, and 2 km, respectively.
The proposed stations on the Delhi-SNB corridor include Sarai Kale Khan, INA, Munirka, Aerocity, Udyog Vihar, Sector-17, Rajiv Chowk, Kherki Daula, Manesar, Panchgaon, Bilaspur Chowk, Dharuhera, MBIR, Rewari, Bawal and SNB.
The 107-km-long Delhi-SNB RRTS corridor is part of the Delhi-Arwal RRTS line. One of the three RRTS corridors prioritised for implementation, Delhi-Gurugram-Alwar is planned to be implemented in three stages.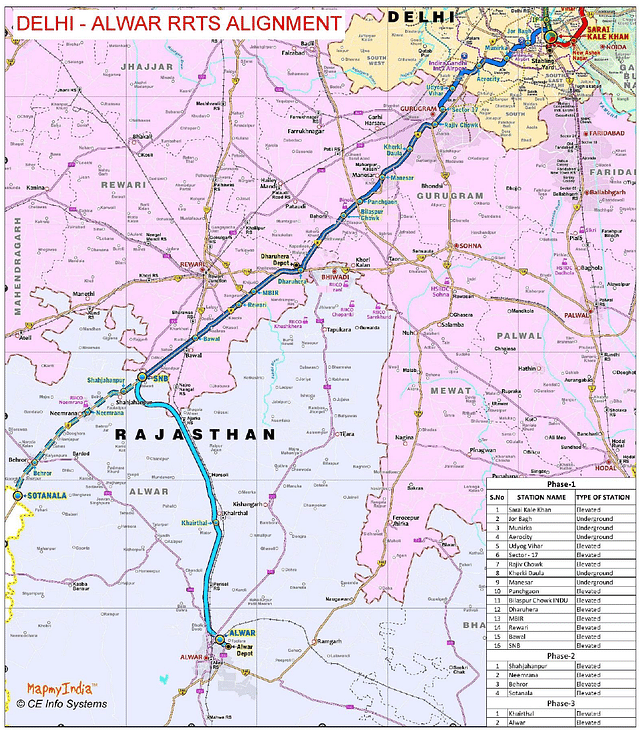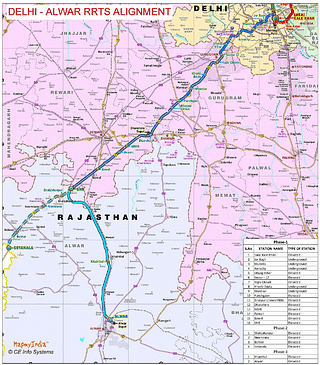 Delhi-Alwar RRTS Alignment
Under the first stage, a 106.5 km stretch will be constructed from Sarai Kale Khan (SKK) in Delhi to SNB Urban Complex, just ahead of Bawal (Haryana), enroute touching various regional nodes such as Gurugram, Manesar, Panchgaon and Rewari.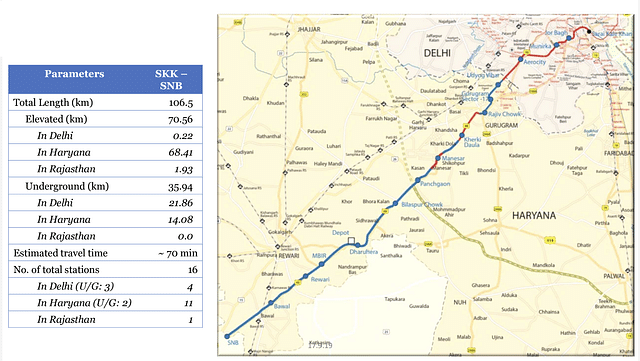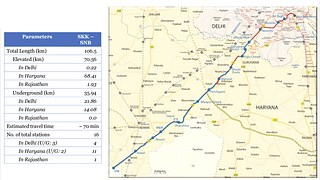 Alignment OF SKK-SNB RRTS Corridor
The line would be extended from SNB Urban Complex to Sotanala (33.3 km), with Shahjahanpur, Neemrana, and Behror in between, under the second phase. SNB to Alwar (58 km) extension is proposed under the third phase.
This corridor will be interoperable with the Delhi-Ghaziabad-Meerut RRTS corridor, facilitating commuters to travel between one corridor to another without the need to change the train.
Similarly, with an intent to incentivise the use of Public Transport, RRTS stations on this corridor will be seamlessly integrated with other modes of transport — Metro rail, railway station and ISBT at Sarai Kale Khan; Metro rail at INA, Aerocity, Udyog Vihar in Gurgaon, Kherki Duala, and Panchgaon and IGI airport at Aerocity.
The corridor is planned to be constructed in about five years' time, excluding one year of pre-construction activities at a base construction cost of Rs 37,987 crore, funded by government of India (20 per cent), concerned state governments (20 per cent) and bilateral/multilateral funding agencies (60 per cent).
The centre has already received the approval with financial commitment of government of Haryana and government of Rajasthan for Delhi-SNB RRTS corridor. However, the Delhi government has not agreed to provide funds for the RRTS corridor connecting the national capital with Rajasthan and Haryana.
In a big boost to the project, the Centre in Feb 2023 included the Delhi-Gurugram-SNB corridor under the ambit of PM Gati Shakti masterplan — this is likely to result in faster approvals and expeditious completion of the much-delayed project.
Delhi-Panipat RRTS Corridor
The Delhi-Panipat RRTS corridor of 103-km-long alignment would have an elevated length of 11.5 km and 91.5 km underground.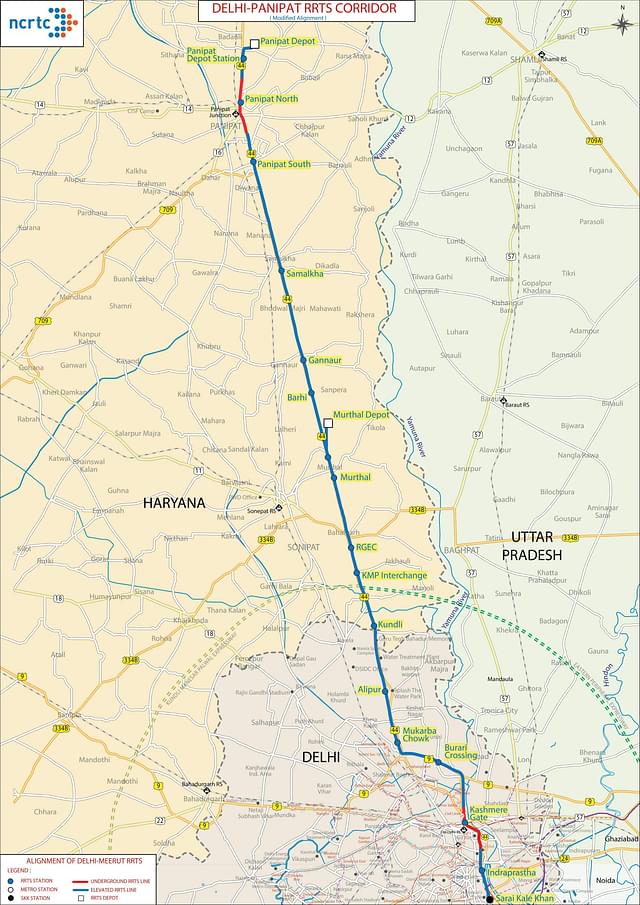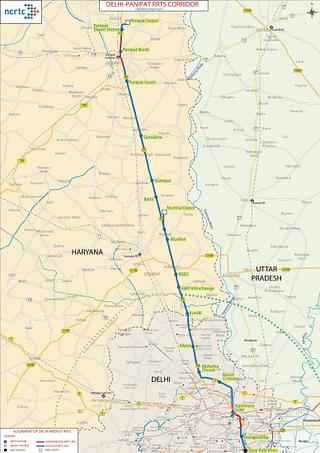 Delhi-Panipat RRTS Corridor
It would have two underground, 14 elevated, and two at-grade stations. Two depots have been planned at Murthal and Panipat. The length passing through Delhi and Haryana are 36.2 km and 66.8 km, respectively.
RRTS
The RRTS is a new, rail-based, dedicated, high capacity, comfortable commuter service. With a design speed of 180 kmph and an average speed of 100 kmph, it aims to connect regional nodes in NCR.
In the first phase of the project, three corridors, namely, Delhi-Ghaziabad-Meerut, Delhi-SNB-Alwar and Delhi-Panipat are under implementation.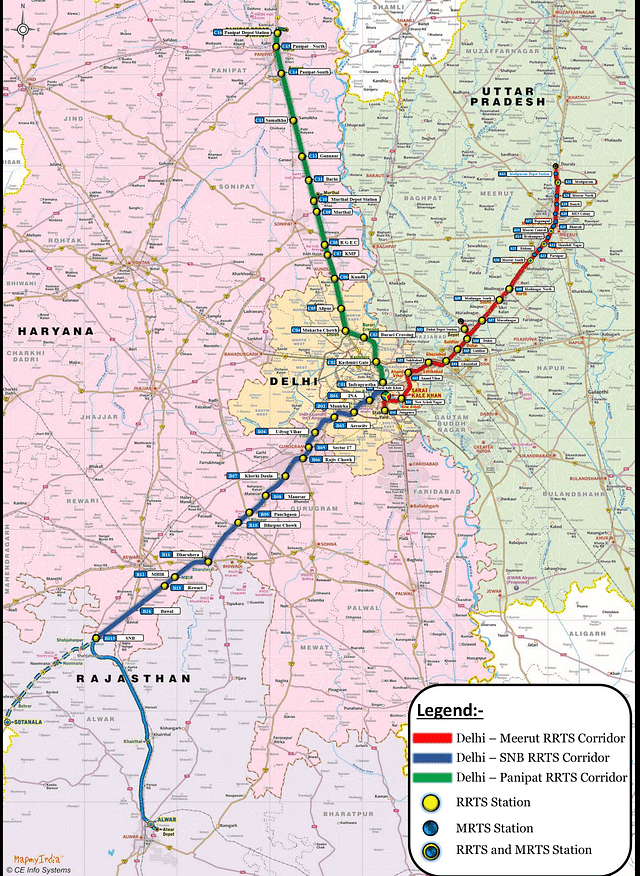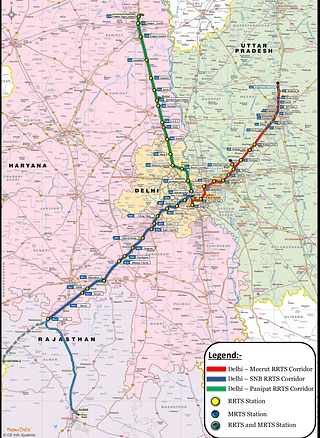 In the next phase(s), five additional RAPIDX lines will be developed.
These are Delhi–Faridabad–Ballabgarh-Palwal, Ghaziabad–Khurja, Delhi-Bahadurgarh-Rohtak, Ghaziabad-Hapur and Delhi-Shahdara-Baraut.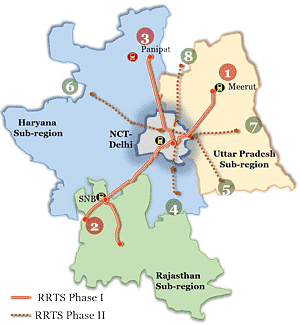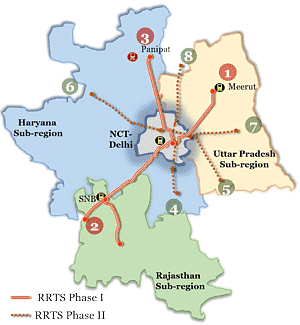 The National Capital Region Transport Corporation (NCRTC), which works under the administrative control of Ministry of Housing and Urban Affairs (MoHUA) and is executing the RRTS project is a joint venture of the Government of India (50 per cent) and state governments of Haryana (12.5 per cent), NCT Delhi (12.5 per cent), Uttar Pradesh (12.5 per cent) and Rajasthan (12.5 per cent).
NCRTC is aiming to commission the 2-km-long Delhi-Meerut corridor for the public by 2025. Before that, it will operationalise a 17-km long Priority Section between Sahibabad and Duhai in 2023, before the scheduled time.