On Wednesday morning, a police team raided a house in Aminagar Urf Bhurbaral area of Uttar Pradesh's Meerut district. The cops went straight to the bedroom, shifted a sofa from a spot and began to dig the floor. Pieces of skeletons and other remains of human bodies, wrapped in linen and covered with salt, were recovered.
The process was videographed, and some journalists tweeted out parts of it. You can see one video here.
The bodies were buried inside the flooring by house owner Mohammad Shamshad on 28 March, as per the police.
Police say Shamshad throttled to death his live-in partner Priya Chaudhary and her minor daughter from the previous marriage. With the help of his brother-in-law Dilawar, Shamshad dug the floor and hid the bodies inside.
While various newspaper reports say Priya was 34 and Shamshad is 38, Priya's Aadhaar card shows her year of birth as 1990 while Shamshad's Aadhaar card shows his year of birth as 1987.
Shamshad was picked up for questioning earlier this week. A first information report (FIR) regarding Priya's "kidnapping" was registered at Partapur police station only a week ago – on 14 July.
The FIR (number 454) was filed on the statement of Priya's friend Chanchal Chaudhary. It named Shamshad as a suspect who had possibly killed the two. He was booked under IPC 364 (kidnapping or abducting in order to murder).
Indian Express has quoted Anand Prakash Mishra, in-charge of the Partapur police station, as saying that "Shamshad confessed that he was forced to kill the two because he was unable to cope up with daily skirmishes…"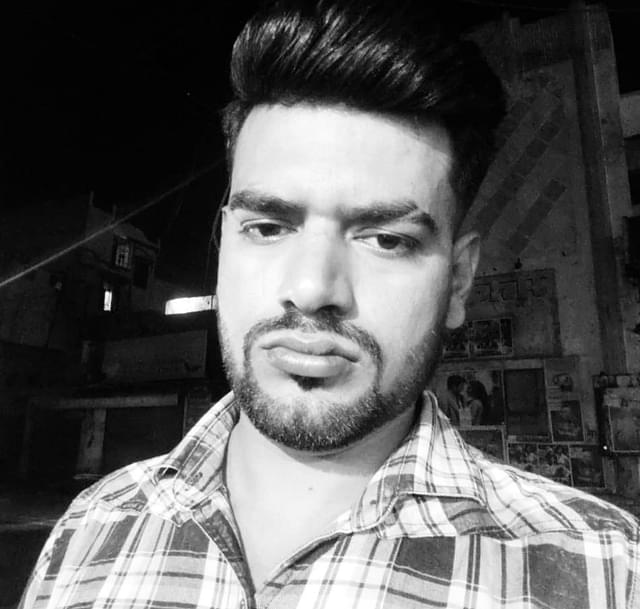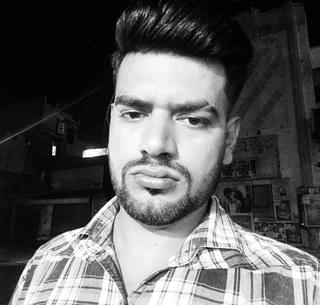 Chanchal had been fearing this fate for Priya since 29 March, the day she lost contact with her.
Chanchal, 25, told this correspondent that she spoke to Priya on 28 March, but the next day, her call didn't go through despite dialling several times. When it repeated the next day, Chanchal suspected that Priya might have blocked her number. She immediately called up Shamshad. He told her he would make Priya talk to her in the evening when he returns home. He didn't. When Chanchal called him again the next day, he repeated his promise and gave excuses for the previous evening. He said that Priya was very much at home but busy.
Chanchal lives in Modinagar, which is about 12 kilometres away from where Priya was currently living and from where her body has been found.
Chanchal called up a neighbour of Priya. What the neighbour told Chanchal left her stumped: he said that nobody had seen Priya or her daughter for the last two-three days. She called up Shamshad for his response; he said that he had been lying, that Priya had left the house without telling him and he had no idea where she was.
On 31 March, Chanchal received a cryptic text message. It requested Chanchal to leave Priya alone. "It read like it was written by a child. But I knew it could not have been typed by Vanshika [Priya's daughter]. She was a very bright child and was good at English. She studied at the Waverley school in Mussoorie for some time," says Chanchal.
"That must be an expensive school," I say.
"Shamshad only paid for it," replies Chanchal.
As Chanchal waited to hear from Priya, she received a text message on 4 April: Rs 45,000 had been withdrawn from Priya's back account. "Priya had given my number at the bank for notifications," Chanchal says. "At first glance, I was pleased with the message. I thought, wherever she is, she must be fine. Then I noticed that the money had been withdrawn by Shamshad. I grew worried."
"I didn't know what I was worried about, but I was certainly very concerned about her safety. Amid lockdown, where could Priya possible have gone, and how?"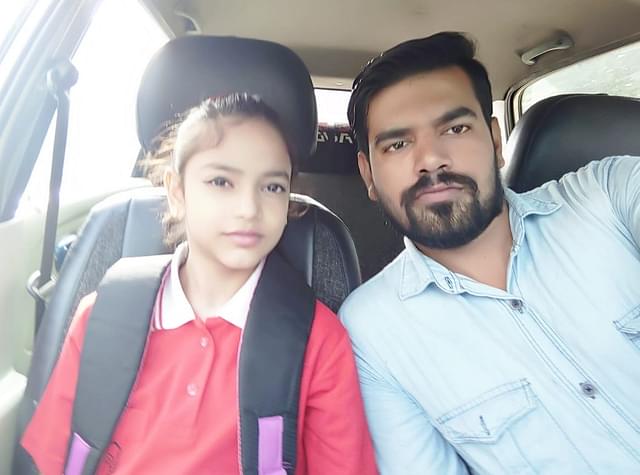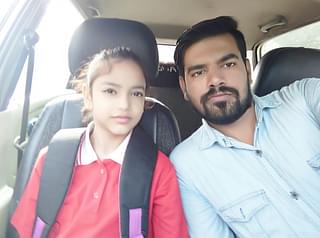 Shamshad with Priya's daughter
On 15 April, Chanchal approached the police for the first time. She gave a written complaint at Partapur police station. The complaint said that Priya and her daughter had gone missing and Shamshad should be questioned.
In the coming days, she called up the cop who took her complaint, Bhupendra Singh, several times, requesting him for an update.
Chanchal shared the audio recording of one of those conversations with this correspondent, which took place about two months after her complaint. It goes like this:
Asked about the status of the case, the cop says the probe is on. He says the police are unable to get call details of her phone because of lockdown as those details come from California. The cop then asks Chanchal why is she after Priya ("tum uske peeche kyun padi ho, kya matlab hai tumhara"). Chanchal says it's natural that she would be curious about somebody who has lived at her house on rent in the past.
The cops asks her if she knows about Priya's family background or her family's address. Chanchal says no, she does not, as Priya was no more in contact with her family. The cops asks Chanchal why she allowed Priya to stay on rent in her house when she didn't know about her family background.
He then tells her that if she is so concerned and has extra money to spare, she should hire a car and park it outside the police station for the cops to look for Priya's body in the jungles. The cop also tells Chanchal that she is young and should mind her own business as court matters can be taxing. He also tells her that he would be visiting her house soon and talk to her parents.
Chanchal told this correspondent that the cop, in a bid to harass her into silence, began to visit her house for questioning. "My parents are extremely simple people. They would grow very anxious whenever the police visited," she says.
On 2 July, Chanchal was so fed up with the case that she gave a written statement at the same police station, saying she did not want to pursue it anymore. A prime reason for the move, besides the police visits to her house, was that Shamshad, in his statement to the police during questioning, had said that both Priya and Chanchal were into prostitution. "This lie broke my spirits. I was shattered. I decided to withdraw from the whole case," she says.
A week later, a man named Manish Loiya, who introduced himself as a member of the Vishwa Hindu Parishad (VHP), approached her. He said he learnt about the matter through some locals and wanted to pursue the case. Chanchal agreed.
She says that Loiya took up the matter with a senior officer in Meerut police. Finally, an FIR in the case was filed on 14 July based on Chanchal's statement.
The statement says it's "regarding disappearance of a Hindu woman and her daughter by a Muslim man who faked his identity as a Hindu".
It says that Shamshad had introduced himself as a Hindu and had been living with Priya for five years. For the last two years, Shamshad and Priya had been constantly fighting with each other. It was only recently that Priya had learnt that Shamshad was already married. Priya had somehow managed to reveal this to Chanchal. Since then, Priya and her daughter have been missing.
The statement names Shamshad as a suspect "who might have kidnapped and killed the two".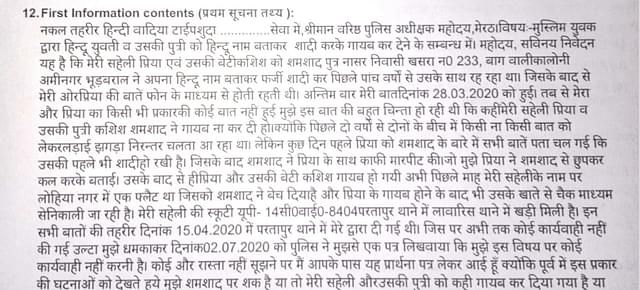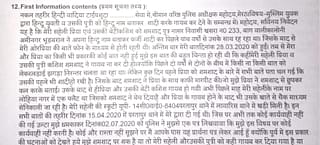 Chanchal's statement in FIR filed on 14 July 
The case was reported by local newspapers this week, after which Shamshad was taken to the police station again for questioning.
The Times of India has quoted Meerut senior superitendent of police (SSP) Ajay Sahani as saying that Shamshad's statements had been inconsistent all this while and since there was no evidence, the police did not arrest him earlier. "But a detailed investigation encouraged us to visit the house where we found the bodies," Sahani said.
Chanchal told this correspondent that she met Priya in 2013, when Priya started living in her house on rent. The two became friends and Priya told her about her past. She hailed from Loni area of Ghaziabad district, and had recently divorced from her husband, who was a resident of Modinagar's Khanjarpur village. It was an arranged marriage.
Priya's marriage fell apart a few years after the birth of her daughter. Her parents wanted her to remarry. They asked Priya to give the daughter to her ex-husband, but Priya didn't agree to it.
"If he was abusive enough for Priya to leave him, how could she trust him with her daughter? Differences in her family grew, and Priya left her house to live separately. She came to live in our colony [within Modinagar]," says Chanchal.
Priya was a make-up artist. Her clientele was premium – she would work with local television and film actors, and brides, says Chanchal. "She would even travel to film city in Noida. She would make about Rs 1000 a day."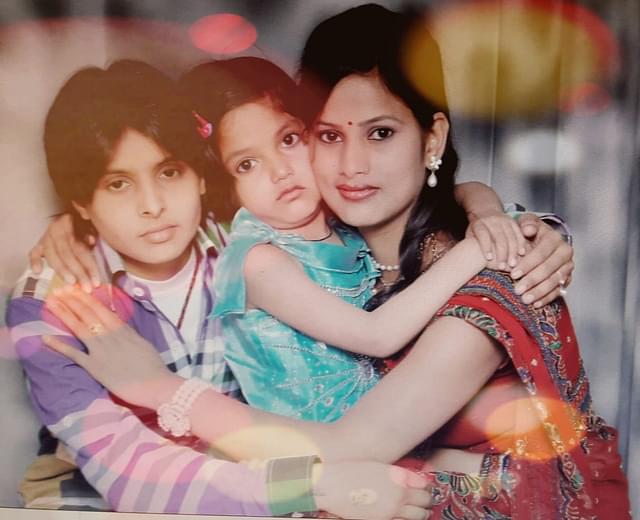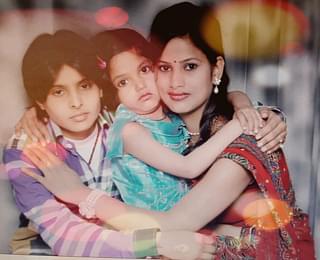 Chanchal (left), Priya (right) with Priya's daughter in between. The picture is from 2013
Sometime in 2015, Priya began to talk to one Amit Gurjar on Facebook. The two became friends and exchanged numbers. Chanchal was privy to it. "When Priya first called him, his name showed as 'SS' on Truecaller. But we didn't read too much into it," says Chanchal.
The two began a relationship. Over time, Priya learnt that Amit was actually Shamshad. Chanchal says the two fought about it, but later patched up.
The next year, Shamshad helped Priya buy a flat for Rs 1.30 lakh at Kanshiram colony in Lohianagar of Meerut's Kharkhauda area. "It was a two-room set made under Kanshiram [sheheri garib] awas Yojana allotted to a woman belonging to a scheduled caste. Owners of such houses usually sell them off cheap," says Chanchal.
In 2016, Priya vacated Chanchal's house and shifted to her new flat with Shamshad. Chanchal says that the two, however, began to have frequent spats. "They would always be fighting over something or the other," says Chanchal. "For instance, Shamshad would ask to her to cook and eat meat even though Priya was a vegetarian. There were other issues too – like Shamshad was no more the affable man he earlier showed himself to be," she says.
A local journalist shared with this correspondent two documents related to a police case that Priya filed against Shamshad in 2019.
One is an FIR against Shamshad and another is a stamped letter by Priya to the district magistrate, which said that she wanted to withdraw the case.
Priya's statement in the FIR (number 222 filed at Kharkhauda police station on 6 April 2019) says that she is a resident of Kanshiram colony in Kharkhauda, has separated from her husband and runs a beauty parlour. Three years ago, a man named Shamshad posed as Rajeev, trapped her in love, married her in a temple and began to live with her. When she learnt that Rajeev is actually Shamshad, he beat her up. He often rapes her and makes unnatural sexual relations with her. He threatens to push her and her nine-year-old daughter into prostitution and even threatens to disfigure her face with acid.

Priya's statement in FIR filed last year
Based on the statement, the police booked Shamshad under IPC sections 323, 376, 377, 420, 494 and 504. However, only 10 days later, she gave a letter to the district magistrate, saying she had been made to sign on a false statement by a crowd and that all was well between her and her "husband" Shamshad.
It says that she had had a petty argument with her husband, but a crowd gathered at her place. Under stress, she signed on whatever statement the crowd prepared, without reading it.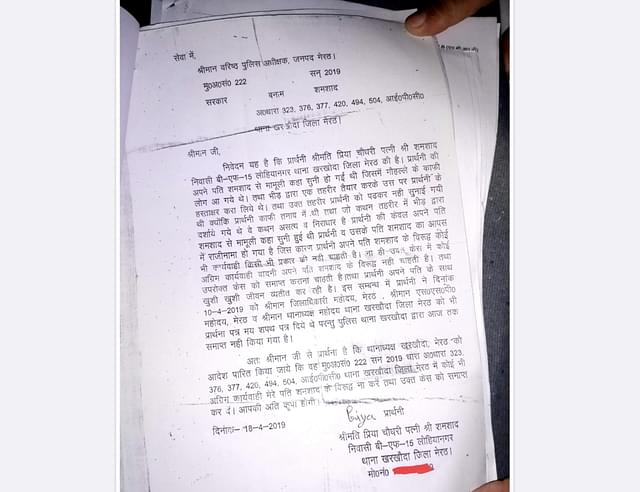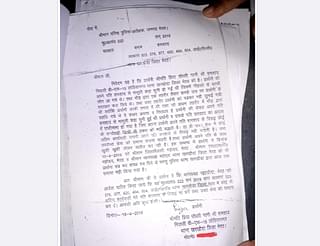 It is pertinent to mention here that Rajeev is the name of Priya's former husband.
Chanchal says she does not know about this police case much. She also says that she never heard from Priya about any marriage with Shamshad either in a temple or a mosque, and all that she knows is that some months later, Priya shifted to Shamshad's house in Aminagar Urf Bhurbaral within Meerut.
Chanchal says that Shamshad did not allow her to bring her home temple to his flat and the two fought over it. "Priya requested me to get her temple from that flat as she did not want to disrespect it," she says.
Chanchal says that it was only earlier this year that Priya learnt that Shamshad was married and had children.
"Shamshad's wife and children live in Bihar while he lives and works here. He visited them only once a year, so Priya did not suspect anything all this while," she says.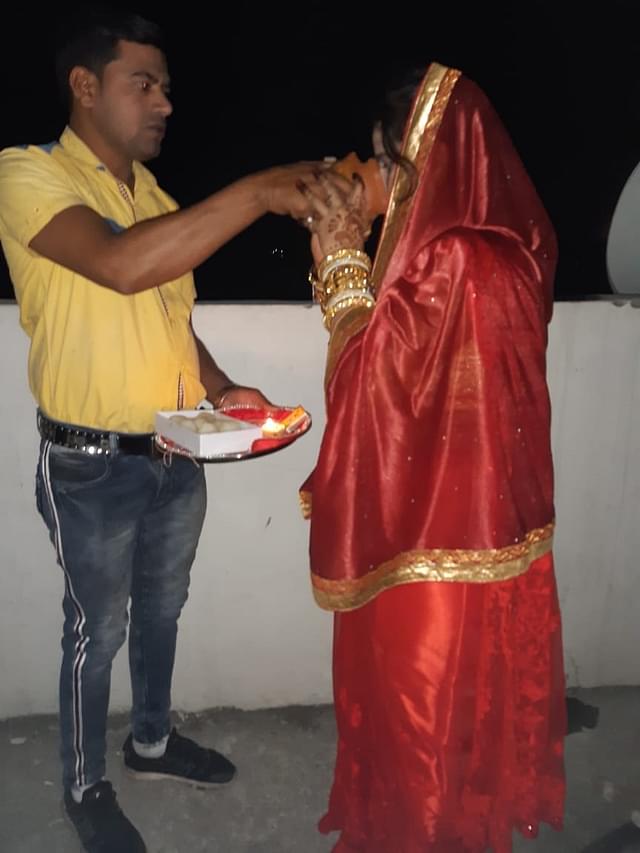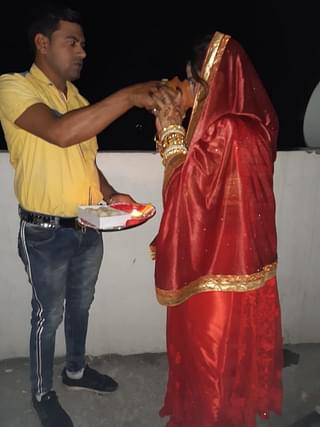 Shamshad and Priya during a Karwa Chauth festival. The picture's date is not known
Chanchal says that during their last conversation on 28 March, Priya did not reveal anything new. "For some time, they had been fighting about the fact that Shamshad had, without consulting Priya, sold off her Kanshiram colony flat."
Chanchal says that the first time she thought Shamshad might have killed her and hidden her body was in June when the police busted a case in Meerut where a Muslim man had killed his live-in partner and buried her in a field last year. The police reached the killer after a year-long probe and arrested him in June. The case caused a sensation in Meerut (Swarajya reported about the Saqib-Ekta case here).
Repeatedly rebuked by the police in the first two months of Priya's disappearance, Chanchal has emerged as a hero in the otherwise tragic story of Priya. She is being hailed by the local media as a courageous woman who, alone, pursued her friend's case when none from her own family had bothered.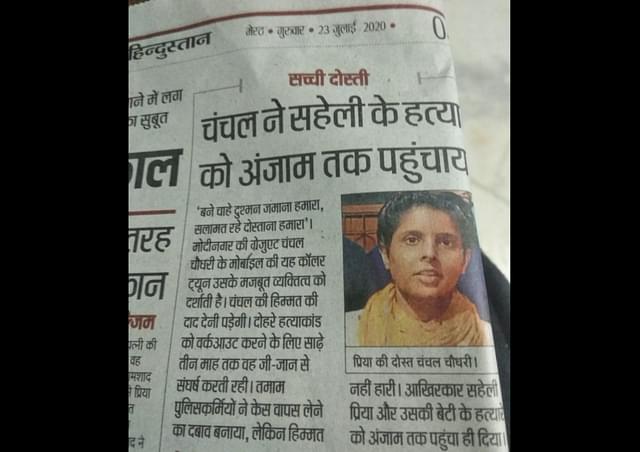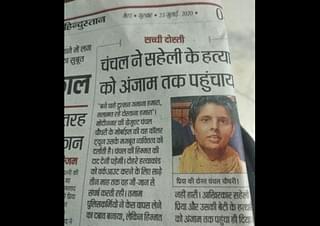 A local news report praising Chanchal
The role of the cop Bhupendra Singh is now under scanner as Chanchal has made public the audio recording mentioned above.
The Times of India has quoted Meerut SSP Ajay Sahani as saying that an inquiry has been constituted to look into the allegations against the officer.
On Wednesday, the police demolished the walls of Shamshad's house after he told them that he had cemented Priya and her daughter's belongings inside the house walls.