This correspondent has been reporting on a rampant fraudulent practice where non-Hindus and former Hindus get Scheduled Caste (SC) certificates made for themselves and grab important government posts reserved for the SC community.
In the first case reported here, a woman, who was born to SC parents in New Delhi but converted to Islam after marrying a Muslim man In 1997, fought and won Zila Panchayat polls from Haridwar in Uttarakhand in 2015. After a legal battle of five years, the Uttarakhand State Caste Scrutiny Committee declared her SC certificate as "not valid" as she was not SC anymore. The woman was suspended from the post, and a first information report (FIR) was filed against her. However, she was never arrested.
In the second case reported here, a woman, who was born to SC parents and similarly converted to Islam after marrying a Muslim man several decades ago, fought and won Zila Panchayat polls in her native Bijnor district in Uttar Pradesh (UP) in 2015. While the National Commission for Scheduled Castes directed the Bijnor administration to cancel her SC certificate arguing that only practising Hindus are entitled to it and the woman had even availed of the Haj subsidy by virtue of being a Muslim, the Bijnor superintendent of police (SP) has refused to act saying 'once an SC, always an SC' (more on this in our next report).
In the third case, we bring you the story of how law caught up with a man, who was born Hindu but converted to Islam more than two decades ago, and fought and won Zila Panchayat polls using his old SC Hindu identity.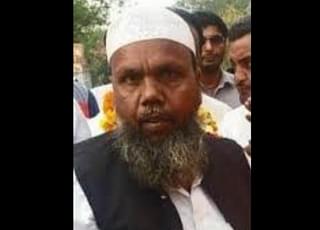 The seat of Ward number 2, Zila Panchayat, Moradabad, is reserved for people belonging to the SC community. From here, the man filed his nomination as 'Balwant alias Shamshad' for the polls in October 2015. He won the seat in results declared the next month.
Shamshad had obtained a caste certificate, where his caste was mentioned as Jaatav, only the previous month — on 29 September 2015.
A candidate, Mithilesh Rani, who finished second, gave a written complaint to the state election commission against Shamshad's election.
Rani said that she had raised objections to Shamshad's name at the nomination stage itself, but the election office of Moradabad paid no heed.
Bhupendra Pal Singh Jaatav, president of a UP-based organisation called Vishwa Dalit Parishad who helped Rani pursue the case, told this correspondent that an election officer did accept the objection and blocked the nomination, but the then district magistrate (DM) dismissed it.
Bhupendra Singh shared with this correspondent a copy of Shamshad's nomination form with remarks of the Returning Officer having been struck off.
"The DM was a Muslim — Zuhair Bin Saghir. He sided with his co-religionist. Some years later, he also had several FIRs filed against him for misuse of power and corruption," said Singh.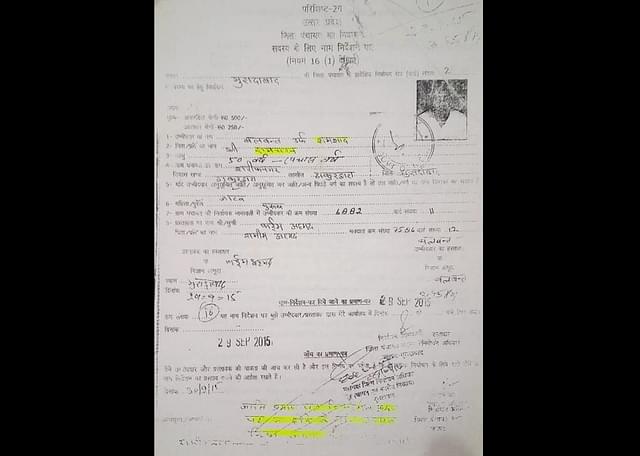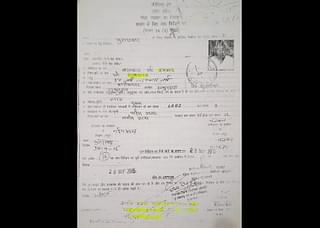 Shamshad's nomination with remarks of Returning Officer (marked in yellow) struck off
Rani, in her complaint, further said that Shamshad had converted to Islam in 1990, and shifted from village Khadana in Moradabad to Shant Nagar in Tehsil Thakurdwara. His name on voter lists of Legislative Assembly as well as Parliamentary Assembly elections is registered as 'Shamshad, son of Anwar' and he is known as such in his locality.
The Moradabad election office picked up her complaint and, in April, requested the state election commission to nullify the election of Shamshad.
Meanwhile, the matter also came up for hearing in the Election Tribunal, as Rani had filed a petition. She repeated her allegations.
Shamshad told the court that he was son of a Jaatav father and, by change of religion, his status of being Scheduled Caste cannot be changed.
The court asked for inquiry reports from the district administration. Both the DM and the Additional DM declared Shamshad's SC certificate as fake. Bhupendra Singh, however, told this correspondent that there's a catch.
"If you see the letters issued by the DM and ADM, they only mention that Shamshad got the caste certificate by fraud. A statement by the then Tehsildar is recorded as saying that the signatures on the certificate are not his. They evaded the mention of religion and made the issue all about forgery," says Singh.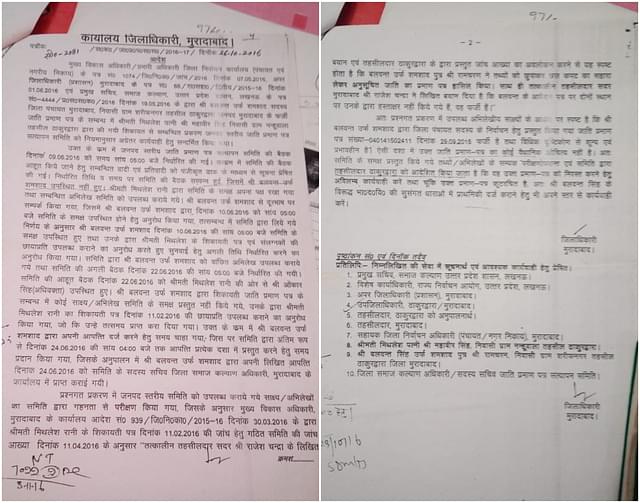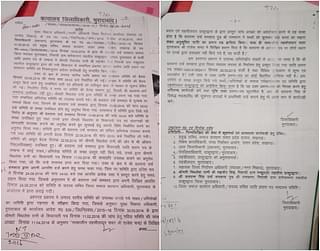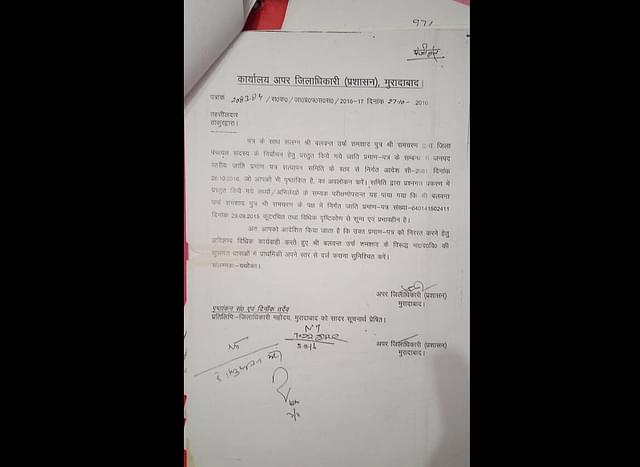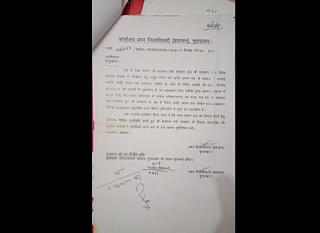 Shortly after, the then Tehsildar Sunil Kumar Trivedi gave a written complaint to the police against Shamshad for fraudulently obtaining an SC certificate. Based on the complaint, an FIR (number 474/2016), was filed at Thakurdwara police station in November 2016 and Shamshad was booked under IPC sections 420, 467, 468 and 471.
In December 2016, the court ordered that Shamshad's election be declared void and he ceases to be member of Zila Panchayat. The court, however, went beyond the allegations of forgery, and specifically ruled that SC benefits are not meant for non-Hindus.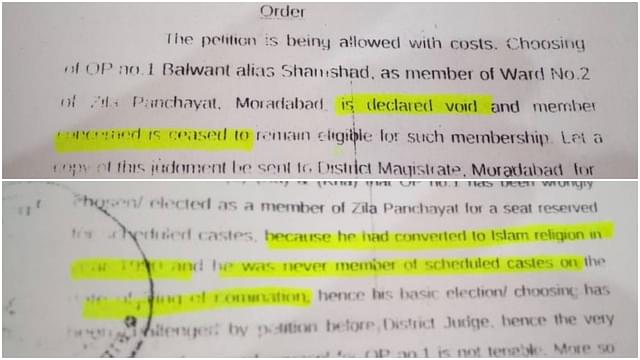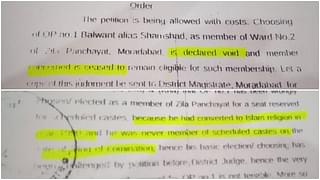 Excerpts from the court order
The court observed that the Supreme Court, in Indra Sawhney versus Union of India (1993) case, held that in order to belong to Scheduled Caste, the person must profess to be either Hindu or a Sikh, and the person cannot be elected to a reserved constituency if he or she converts to another religion before filing nomination. In this case, Balwant had converted to Islam in 1990, that is, much before filing his nomination in 2015, the court said.
"Fraud cannot be allowed to dwell," the court observed.