A fundamentalist Baptist, a provocateur who is said to be behind the vandalising and destruction of a Mahatma Gandhi statue in Davis, California, and a man accused of colluding with Khalistani terrorists, went on a hunger strike.
Yes, you heard it right. This provocateur who has been published by leftwing magazines in India and Marxist blogs in the US, went on a hunger strike because he wants Jack Dorsey to take back the $2.5 million he donated in his personal capacity to Sewa International, a Hindu faith-based charitable organisation at the forefront of the battle against the Covid-19 pandemic.
This is the man who wrote a piece titled, "Gandhi Has Got To Go". Pieter Friedrich, who got as much mileage on his supposed five-day hunger strike as a Humvee in an Iraqi desert, called it a day when no one bought his "feku" PR stunt, or maybe when he realised that he was too much in love with himself and food to be led down the garden path or up the martyrs' alley by his Khalistani handlers.
This man, Friedrich, has an interesting past, whatever little can be gleaned from his scrubbed, cleaned, and whitewashed profile available on the Internet. He has claimed in one of his blogs that he was born into a fundamentalist Baptist family, and an OpIndia report confirms that.
He has been invited by the usual gang of "secular, progressive, human rights" groups to deliver talks at Columbia, Stanford, UC Berkeley, and the UCLA, going to show how well-entrenched and influential are the anti-India and the anti-Hindu groups and activists in American universities, and the range and reach of these media and academic activists.
The thread of posts on Twitter by Disinfo Lab shows how Friedrich is an important player in the proxy war carried out by the variety of forces against India, including fundamentalist Christian and extremist Islamist groups, Khalistanis, so-called Dalit rights groups, academics like Audrey Truschke, herself connected to a fundamentalist preacher's family, and the gang of leftist poseurs who started recruiting and seducing young Indian American students into their Left/Marxist eco-spheres over the past three decades.
This battle to dismantle India has been led by academics and activists like Arundhati Roy, Vijay Parshad, Biju Mathew, Kamala Visveswaran, and Angana Chatterji — and their influence on students has been considerable for we now see these students emerging as 'leaders' in their own right and as anti-Hindu bigots — ensconced in 'Equality Labs' and such other parasitic institutions that draw upon the goodness and largesse of their American and international benefactors.
Friedrich has had a variety of aliases including Peter Singh, Patrick Flanagan and Patrick Nevers.
He has been published by magazines like The Caravan, which tom-tom-ed the screed that Friedrich wrote for them, titled, "The American Sangh's Affair with Tulsi Gabbard," indicating the nexus between India-based extremists, fundamentalists, anti-Hindu bigots, and critics of Narendra Modi and the Sangh with their extended families in Europe, Australia and the US.
That the Chinese have found this a happy hunting ground to play their mischief should not be lost on intelligent followers of the Indian political scene.
According to a Wiki page, Friedrich is known "as a companion of Bhajan Singh Bhinder, alias Iqbal Chaudhary, a Khalistani terrorist who has also worked for Pakistan's Inter-Services Intelligence (ISI)," and he has confirmed in an India Today interview that he was indeed a collaborator and friends with Bhajan Singh Bhinder.
He has called Bhinder "the most genuine, biggest hearted humanitarian I have ever known".
Friedrich is also mentioned as an influencer in the "toolkit case" in the context of the "farmers' protest".
From an investigative piece in OpIndia, we find that Friedrich was in dire financial straits when Bhinder recruited him to do the dirty work on India, and Friedrich has indeed delivered a lot of goods for Bhinder, from appearing at many of the California textbook hearings where Hindu parents were protesting the demonising of Hindus and Hinduism in state-prescribed textbooks for schoolchildren, to his appearance at a Houston City Council meeting to protest against the visit of Modi.
He is a classic, committed, zealous, driven White supremacist and the mustache he sports is there to remind us how close the connection is to the background and training he has had as a fundamentalist Baptist ready to convert the heathen to his ways.
That Friedrich collaborated with extremist Sikh groups, radical Black activists, and left/Marxist provocateurs is clear. How these so-called minority groups ganging together have been able to create their own hateful, manufactured realities has gone under the radar, and that Canadian, American, British, and Indian secret service and intelligence agencies have ignored the plots hatched by these groups is a story ready to be told.
Which enterprising author or journalist will do so or can do so is however not clear. What is clear, however, is that Friedrich plotted with Bhinder to concoct and build the anti-Gandhi narrative, as discovered by Disinfo Lab.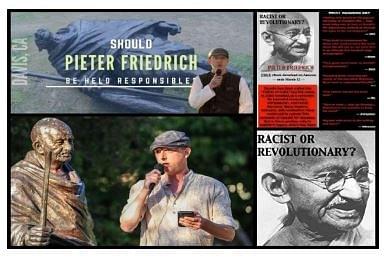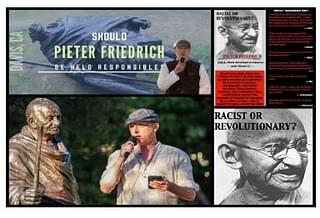 Collage courtesy: Disinfo Lab
What should therefore also be clear is that Friedrich is very much a major player in the destruction and vandalising of the Gandhi statue in Davis, and that California, Washington, and British Columbia in the Western part of the US and Canada, that are hotbeds of Khalistani extremists, are now ripe for further anti-India and anti-Hindu activism.
We also saw how, for example, these very same people were behind the intimidation of an Indian doctor in Fremont, California, who spoke in support of Indian farm laws, and against the so-called "farmers' protests".
That no one has been arrested for the destruction of the Gandhi statue goes to show the abilities of these extremists to plot and plunder, destroy and demonise.
That Friedrich has taken on the mantle of an anti-racist, pro-Black and pro-Dalit activist goes to show the sophistication of the ideological gang warfare waged by Friedrich and his "deep state" enablers.
That he went on a hunger strike to attract the attention of the Bay Area billionaires goes to show the backing he has from the well-educated, sophisticated, and skilled public relations strategists among anti-India activists.
We also know that the 'poison potions' manufactured by groups like 'Equality Labs', 'Hindus for Human Rights', or this or that 'South Asian' group are used effectively by Friedrich.
But, in life, matters do come to a head, pendulums begin to swing back, and the violent and the willful do get exposed for what they are and for what they do, and their faces behind their masks will be revealed.
Friedrich's links with "Organization For Minorities in India" (OFMI), an extremist outfit, is now in the open, and OFMI's plotting of the destruction of the Gandhi statue is also clear.
Why no one has been arrested and charged for the crime goes to show how American politicians, at the local, state, and federal levels have been trapped and emasculated by the rhetoric of these extremists masquerading as progressives.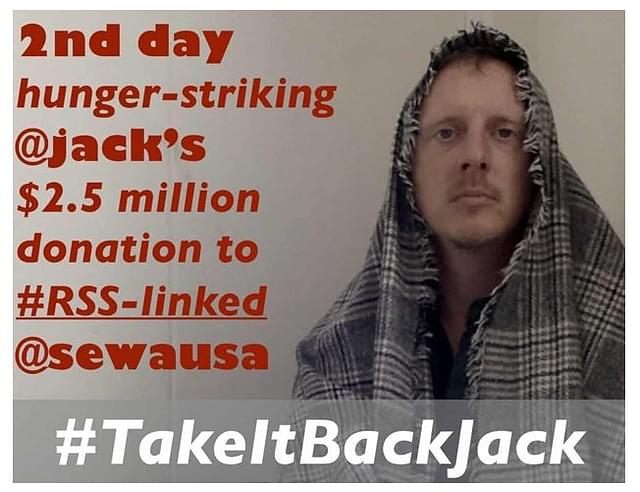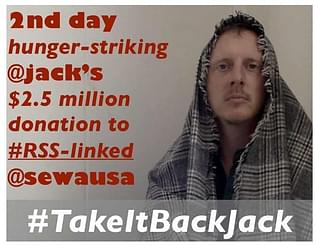 Photo courtesy: The Siasat Daily
Friedrich's 'hunger-strike', where he poses for his Khalistani cameraman's mugshot, shows him wearing his Men's Wearhouse scarf on his head trying to look haggard.
If Saturday Night Live writers were to ever find stories that went beyond their limited view of the world, they would have much fun caricaturing this scarfed screwball. Alas, even our own comedians do not have the nose for caricaturing such cockamamie nonsense.
Friedrich's attempt to imitate Gandhi's strategy to influence people and weaken the oppressors will throw much light on the nature of the 'Bhinder Boys'.
Friedrich is a hitman who seeks to destroy Gandhi while also embracing him. His fundamentalist Baptist colours are showing, just as his mentor and financier, Bhinder's Khalistani extremism is also showing.
What we need at this point, therefore, is for a federal investigation into this network of India-breakers and anti-Hindu bigots.
Jack Dorsey, we hope, has people in his charitable organisation who are doing their homework, and who will therefore ignore the PR stunt manufactured and enacted in a California home by a man affiliated with terrorists.