New Delhi, June 2019
On the night of 30 June, a sloganeering mob unleashed violence on a residential colony in Chandni Chowk's Lal Kuan and desecrated a temple. The attack was in response to a minor scuffle between local residents Sanjeev Gupta and Aas Mohammad over parking a scooter a couple of hours earlier.
You can also read this article in Hindi- 'बदला लेने वाली भीड़' घटनाओं की बढ़ती संख्या और इससे कैसे निपटें
None of the 50-odd families had anything to do with the parking brawl but the mob pelted stones and bricks at their houses while mouthing religious slurs. A much larger mob – numbering over a hundred – desecrated a Durga temple located at the colony's entrance – breaking glass panels, damaging idols, burning curtains and, as per some accounts, even urinating at the premises.
As per mobile-recorded videos and eye-witness statements, these were some of the utterances of the mob: 'Allau Akbar', 'Naara-e-Takbeer', 'Saare Hinduon baahar aao, hum tumko batayenge kaata kaise jaata hai. Kaatna humse seekho (All you Hindus, come out, we will teach you how to cut)' and 'Modi murdabad, hamara Imran Hussain zindabad, Kejriwal zindabad'.
Read the report here.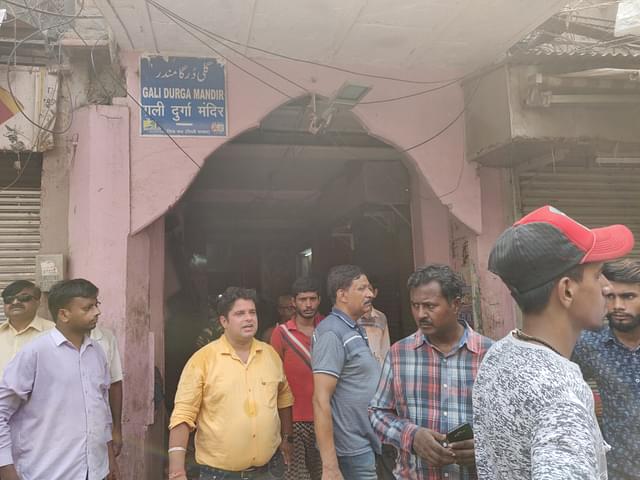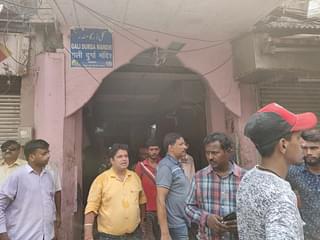 The entrance to Durga temple lane where a mob desecrated a temple and pelted stones.
Kolkata, June 2019
On the night of 10 June, a mob of reportedly 200 people gathered at a state-run hospital in Kolkata, and assaulted the staff. The attack was in response to a clash between some junior doctors and the family of a patient a few hours earlier.
The family had accused the staff of negligence after 75-year-old Mohammed Sayeed died of a heart attack. Sayeed's son and nephew – both imams of local mosques – allegedly instigated their neighbourhood into violence. The mob reportedly arrived in two lorries on the call of the family to back them up, and threw bricks and stones at the hospital staff – critically injuring a junior doctor, Paribaha Mukhopadhyay.
Read the report here and here.
Mathura, Uttar Pradesh, May 2019
On 18 May, a mob of 15-20 men vandalised the shop of brothers Bharat Yadav and Pankaj Yadav in Uttar Pradesh's Mathura district and brutally assaulted them. The elder brother, 26-year-old Bharat, succumbed to head injuries after a week. The trigger for the attack was a minor scuffle over payment between the lassi shop owners and a group of customers only minutes earlier.
The mob thrashed the brothers with lathis and rods while repeatedly calling them 'kaafir' (a derogatory term for non-Muslims that means 'infidel' or 'disbeliever'). Eye-witnesses say the mob proclaimed loudly that it was because of Yogi Adityanath and Narendra Modi that they were getting emboldened.
Read the report here.
New Delhi, March 2019
In March, a petty scuffle between two neighbours resulted in one side bringing a mob to the doorstep of the other only minutes later. The scuffle took place after Thakur Das had complained that children in the other family were pelting stones at his house.
Armed with swords, bricks and stones, the mob of 10-15 men vandalised Thakur's house and attacked the occupants. This case, incidentally, took place in the same Basai Darapur area of New Delhi where one Jahangir Khan stabbed Dhruv Tyagi to death with a butchers' knife, after the latter complained about Jahangir's son molesting his daughter.
Read the report here.
Gurugram, March 2019
A mob barged into the home of one Mohammad Sajid in Gurugram and attacked him and his family including women and children. The trigger for the assault was a minor scuffle between the children playing cricket and a group of men on a motorcycle.
Both sides presented conflicting versions of the scuffle. While the family claimed the group called those playing cricket 'mullahs' and told them to go to Pakistan without any provocation, the other side said that one of the bike riders was hit by the cricket ball and when he confronted, was assaulted by the players.
The bikers returned with 12-15 men from their community, wielding lathis and sticks, and brutally thrashed the family.
You can read the report here and here.
Mantola Agra, Uttar Pradesh, February 2019
On 3 February at around 8 pm, one Pramod Kumar was returning after fetching water from an RO plant when a group of men caused him to trip and fall. The two sides had a scuffle and parted ways but minutes later, the men brought over 20 members from their community to attack three houses belonging to Kumar's family.
"They started throwing stones and bricks and even fired gunshots. They threw bottles filled with acid from their terrace," a family member told this correspondent.
The victims said they were attacked for their religion with the motive of terrorising them into leaving the area. The locality used to have about 400 Hindu families some 20 years ago but have now reduced to just about 100, they said. "Violence is a strategy to drive us [Hindus] out. Else why would they open fire over such a petty issue?" Pramesh Singh Maurya, a relative of the victim, said.
You can read the report here.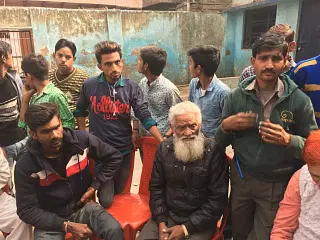 Victims of attack in Mantola, Agra.
A Pattern Of 'Revenge Mobs'?
Communal strife is not a new phenomenon in India. In his book Pakistan and Partition of India, Dr B R Ambedkar, while concluding that Partition on communal lines is the only solution for lasting peace, listed a number of instances. The last few years have particularly witnessed a large number of cases of group violence over contentious issues. Often, the trigger for such violence has been sensitive issues such as cows or religious processions.
However, of late, cases of 'revenge mob' attacks have been taking place with alarming frequency. On closer look, a typical pattern emerges. There is a minor tussle over a trivial issue. It escalates to threats. One side brings a mob in revenge after a short while. The mob makes it evident that it assembled to stand with co-religionists, often mouthing religious slurs. Soon the situation escalates into a serious crime.
Such mobs display little fear of the law. In the Mathura case, a woman challenged the brothers to file a police case against her, saying she would get bail easily. In Basai Darapur, one of the attackers, while under arrest, warned the victim's son Shekhar that he was scared of none and compared himself with Dawood Ibrahim.
In most of the cases listed above, the victims alleged that police went soft on the attackers.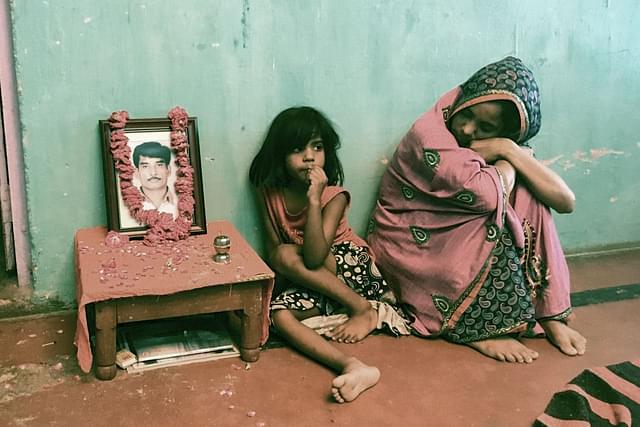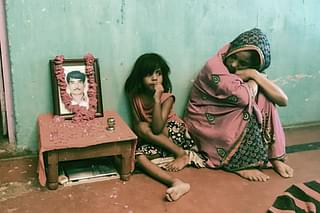 The wife and daughter of Bharat Yadav, who was lynched in Mathura
Rising Intolerance, Panic Reaction Or Assertion Of Religion? Activists Speak
Rajiv Tuli, executive member of the Delhi chapter of Hindu nationalist organisation Rashtriya Swayamsevak Sangh, says that the cases show increasing display of assertiveness of religion. Tuli, who is actively participating in rebuilding of the desecrated Durga temple in Lal Kuan, claims it is the Muslim side that brings a revenge mob in most cases and even offers a reason for it.
"It's all because the Hindu community has begun to speak up now," he says, and explains, "earlier, the government so openly sided with Muslims that Hindus wouldn't retaliate. Now, they do. You can see how Hindu youths have been gathering every day in Lal Kuan to lend moral support to their co-religionists. The other community thus has become more aggressive."
Tuli says the revenge mobs aren't gathering only in streets, but are also uploading videos on social media platforms threatening rape and murder of Hindus. There has been a spate of videos, especially on Tik-Tok, of youths threatening revenge for Tabrez Ansari's death from the entire community.
On the other hand, Maulana Athar Hussain Dehlavi, who is the chairman of an Islamic organisation, Anjuman Minhaj-e-Rasool, and a regular on television news debates, says that such attacks are only an extension of a general spurt in crimes, especially road rage. As per Dehlavi, lynchings of Bharat Yadav and Tabrez Ansari are both examples of road rage that were communalised by the media, notwithstanding the slurs of 'kaafir' or the calls to chant 'Jai Shri Ram'.
"Sehensheelta lagatar hamare jeevan se nikalti ja rahi hai (People are fast losing patience and tolerance)," he says. "People are shooting others dead over most trivial of matters. In Najafgarh, a car-owner killed another man when not given side. Everyone is desperate and impatient today," he says.
Dehlavi says the media is to be squarely blamed for communalisation of crimes. "Zurm ko dharm ka naam diya ja raha hai (Crime is being given religious colour now)," he says, and argues that when a Mohammad Ayub Pandith gets lynched, the media refuses to acknowledge it as such simply because religion of both victim and the perpetrator is the same. "When the equation is Hindu-Muslim, the media jumps in to communalise it," he says.
Asked why a crime like Lal Kuan — that was accompanied with slogans of Allahu Akbar — should not be called a communal crime, Dehlavi simply says that the mob wasn't aware of the "purani dilli culture". "I have my roots in old Delhi, where there is a temple every 200 metres. The mob obviously did not know the culture of the area and the mutual harmony we have lived in for ages," he said.
Sanjeev Newar, who is researching terror financing at the Indian Institute of Technology-Kanpur (IIT-K) and works for facilitating justice for crime victims, points out that some of the attacks of late may be incited by panic. "The way criminals are referring to Modi and Yogi during attacks shows they want to avenge the democratic loss in general elections with brutal victory on streets," he says.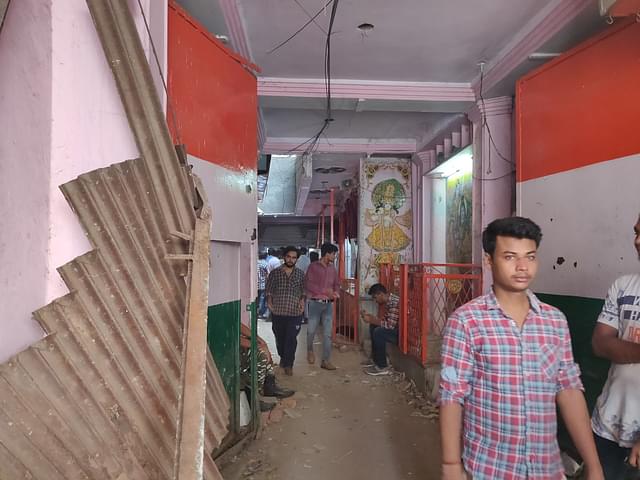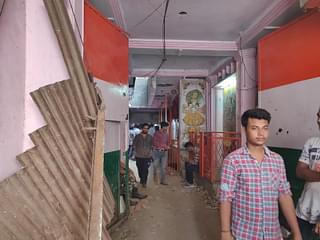 The temple that was desecrated in Lal Kuan
Challenges For The Police
Conversations with senior police officers reveal several lacunae in the way "Hindu-Muslim conflicts" have been handled over the years. The problem has aggravated in these times of quick messaging mobile applications, they say.
"Mobs, especially Muslim mobs, gathering to 'avenge' minor scuffles is not a new phenomenon as such. It's routine for the police to deploy a force outside major mosques in sensitive areas like Aligarh," said a senior police officer from Uttar Pradesh. "But earlier, such violence was limited mostly to Friday afternoons when community meets for joint prayers," he said.
The officer, currently posted as Superintendent of Police of a communally sensitive district in west UP, spoke on the condition of anonymity.
He said the attack in Chandni Chowk was manifestation of a "growing trend" of mobs gathering through provocative messages on WhatsApp.
Those in the mob know that only few would be arrested, he said. "It's practically impossible to arrest all members of the mob. Many are outsiders living on rent and they run away after participating in violence," he said.
Notably in the Mathura case, seven men landed in the police net even though the first information report (FIR) mentioned two names along with '15-20 unidentified men'. In the Basai Darapur case, four arrests were made despite videos showing well over 10 people. In the Chandni Chowk case, 17 men were arrested until 7 July despite the mob having over a hundred people.
The officer said a mob typically has three parts. One, the foot soldiers who indulge in violence. Two, the 'pressure crowd' that rallies behind them — lending them support but not actively participating. Three, the instigators, who stand at a distance or who are absent from the scene altogether. "The instigators, usually, are the elite of the community — the influencers, the monied, the religious authorities. They are almost never caught," he said.
Foot soldiers, as is increasingly observed, are juveniles or men in their early 20s feeding on one-sided religious propaganda, he said. It's pertinent to mention here that in the Chandni Chowk case, almost half the arrests are of minors.
The officer said that along with revenge mob attacks, another growing trend is that of Hindu youths gathering to protest over seemingly anti-Hindu crimes, most common being 'love jihad' and cow slaughter. At times they indulge in hooliganism and destruction of property but arrests made in such cases too are few, he said.
Another senior police officer, currently posted in Delhi, again speaking anonymously, said that handling "low-scale Hindu-Muslims conflicts" is always a major challenge for the police because the perpetrators from either side begin maligning the force as partisan to escape police action.
He explained, "cross FIRs are easily accepted in these cases. Even if it is one side that has brought a mob at the doorstep of another, the case is registered against the latter for acting in self-defence. Tempers are high and the police often gives in to pressure," the officer said, adding that often, the lower-level cops are ignorant of the finer points of the law.
What the officer observes can be seen in the Basai Darapur case. As per the victim's son, the family was booked for attempt to murder after they used a bathroom wiper in self-defence. This is despite mobile-shot videos of the armed mob creating ruckus at their house.
The officer said that a preliminary inquiry is enough to dismiss the case against the victims but sometimes the police intentionally drags the investigation in communal conflicts.
The police officer in UP confirmed this, reasoning that no one from the district administration to political parties want chargesheets filed in such cases due to vested interests. "Fir police apne aap hi dheere chalti hai [so police go slow on its own]," he said.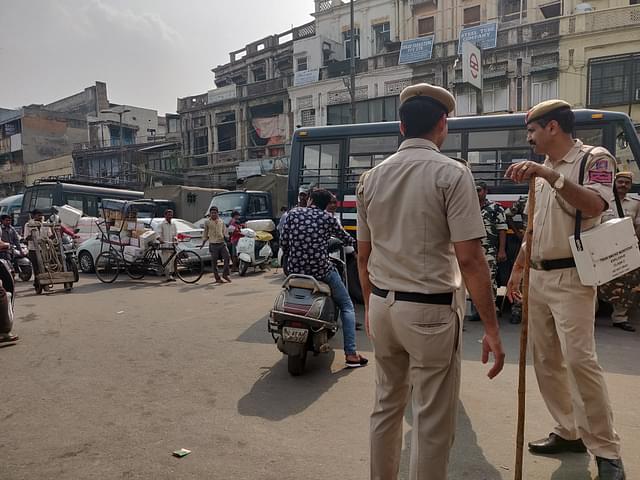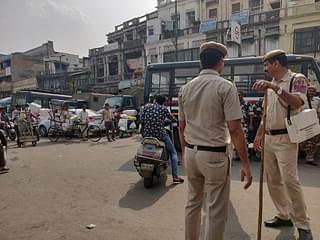 Police deployed in Hauz Qazi area on July 2
Does The State Have A Solution?
The officers offer two suggestions. One, to train the lower-level cops in dealing with "civilians" better. "Cops are scared to take on such violent mobs as they are later accused of excesses and face disciplinary action. The mob knows this," the UP officer said.
"Unlike the army that has a clearly defined enemy, cops deal with civilians and are expected to not treat them like criminals. In situations where they resort to lathi-charge, the cops usually face action by the department later on," he said.
Two, the composition of 'aman committees' must change with changing times to accommodate youths. Aman committees are local citizen groups that work closely with the police in volatile situations in calming tempers, usually comprising influential people that both Hindu and Muslim residents look up to.
Such committees, as per the Delhi officer, are increasingly becoming irrelevant. "They need representation and attendance of youths – minors and teenagers included. Unless the youth considers peace, there will be no peace," he said.
Arvind Verma, visiting professor at IIT-Kanpur, says that sloganeering by hooligans perhaps reflects their loss in faith in the administration and the government, and thus there is a dire need to engage with the youth.
Verma recommends the police to adopt what is called 'problem oriented policing' (POP) that enables them to proactively create and empower local communities to prevent such mob attacks. "This can be done by ensuring that such communities are involved in registration of FIR, investigation and conflict resolution," says Verma, who teaches Criminal Justice at Indiana University, Bloomington.
"Ideally, political parties should be doing this role but they are even more discredited and play their games for vested interests. Since police have to handle this, it will be wise on their part to come out proactively and adopt this POP to deal with growing mob violence where neighbours are pitted against one another," he told this correspondent.
Maulana Dehalvi, on the other hand, says the state must prohibit the media from publishing identities of victims and perpetrators to curb such violence. "Mentioning their names serves no purpose other than promoting communalism. Far from bringing down crime, it creates rift between communities," he says.
Newar too blames a section of the media for such revenge mob attacks. "A narrative of Muslims in fear is being pushed. There is no data to validate this narrative but its effect on the ground is for all to see," he says.