In a recent case in Madhya Pradesh, a Hindu woman had eloped with her Muslim boyfriend a few years ago, was found dead under suspicious circumstances. The woman's father has called it a murder by her boyfriend-turned-husband.
The man, Mohammed Irfan, was earlier accused by the woman, Rachna, of forced conversion with domestic violence and was jailed. He, however, was promptly released on bail.
After Rachna's body was brought to police station, a spat ensued between her father and Irfan's family. Eventually, the body was handed to the father who cremated it as per Hindu rituals.
Rachna belonged to the 'Chamar' caste, which is a scheduled caste.
The case is from the Shujalpur district of Madhya Pradesh, which is around 100 kilometers from the capital city, Bhopal.
The marriage
Rachna's father Mohanlal Khelawar is a resident of Krishna Nagar in Shujalpur. He told this correspondent that Rachna was studying at Jawahar Lal Nehru Smriti college when she met Irfan.
"In 2018, she fell into the trap of a boy named Irfan who posed as a Hindu and married him in court," he said.
Khelawar shared the court document. It says that Rachna and Irfan are adults and want to live together. The document makes no mention of marriage but of a live-in relationship.
Khelawar says he told Rachna that she would regret the decision. He told her that Irfan would convert her to Islam and marry more women. Rachna told her that her Irfan was not like that.
While the Khelawar family lost touch with her, Rachna began living with Irfan.
Rachna went on to give birth to a girl and a boy. Until now, she was living separately with Irfan. Now, his family began forcing her to start living with them, says Khelawar. "Irfan anyway wasn't earning anything," he says.
Before shifting with Irfan's family, Rachna was duly converted to Islam, was given a new name, Alia Bi, before the nikah. "His family said it was haram for a man to be living with a woman without nikah," he says. "Where did all their morals go when Irfan made a woman elope from her house?" he adds.
Khelawar says these developments, when unfolding, were not known to him. It was after Rachna returned to her parents after facing assault from Irfan, that he came to know.
Khelawar says that in March 2021, Rachna shifted to Susner with Irfan's parents.
In August 2021, Rachna returned to Khelawar family. She told her parents that after a spat, Irfan dragged her out of house, onto the concrete road, holding her one leg. Her backbone suffered severe damage. She said that assault happened in June.
With her parents' support, Rachna filed a police case against Irfan. He was released on bail within a month.
The First FIR
The FIR was filed at Susner police station on 24 August. Irfan was soon arrested.
The first information report (number 259/2021) was registered at Susner police station on 24 August 2021 by Rachna.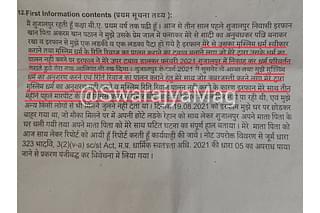 The FIR registered at the Susner police station by Rachna against Irfan
Her statement recorded in the FIR says that she had studied till the first year of her undergraduate course in Arts. Three years ago, she fell into the trap of Irfan, who was then a resident of Shujalpur.
She began living with him based on a court affidavit. Soon she gave birth to two children. After the kids were born, Irfan started pressuring her to convert to Islam. When she refused, he forced her.
In February 2021, he converted her to Islam and named her Alia Bi. After conversion, they went through nikah as per Islamic rituals. In March, he shifted to Susner and she went with him. After coming to Susner, he started forcing her to follow Islamic culture. On refusing, he used to physically assault her.
Three months prior to the day of the FIR, Irfan beat her so much that she could not walk. He stopped her from meeting anyone. On 19 August when Irfan left home for work, Rachna ran away from the place. She reached his father's house where she told him everything, the statement concludes.
The police booked Irfan under IPC sections 323 (voluntarily causing hurt), Section 3(2)(VA) of the Prevention of (Scheduled Castes and Tribes) Atrocities Act and Section 5 of the Madhya Pradesh Freedom of Religion Act, 2021, which is loosely called "anti-love jihad" law.
The Shujalpur district court released him on bail within a month saying that the victim, Rachna, had not produced the crucial evidence of her medical reports to the court to testify to the assault on her back (bail order number 373/21 issued on 24 September 2021).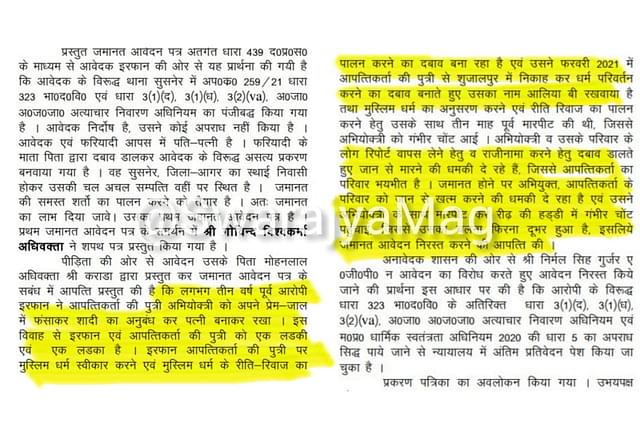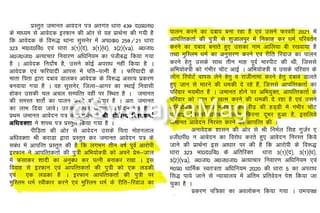 The death
Irfan began visiting Rachna, saying he was sorry for what he had done. In March 2022, Rachna returned to Irfan.
She died in June.
Khelawar says that on 1 June 2022, Irfan dropped Rachna at Shujalpur, saying he would soon take her to a doctor. Rachna was troubled by her back problem. On 4 June, Irfan came to pick up Rachna with his father Akram Khan. Khelawar asked his son Raj to accompany Irfan, Akram and Rachna to Bhopal, where they were scheduled to meet a doctor.
As soon as they reached Bairagarh railway station, Irfan suggested they should have breakfast in turns so Rachna isn't left alone. He asked Raj to have breakfast first.
As per Khelawar, Raj found his sister dead on his return.
"Irfan and his father were crying. Irfan told Raj that Rachna was no more. That's what Raj told us," says Khelawar. He says he was left shocked. Within an hour of them leaving the house, this news was received, said Khelawar.
Khelawar says Irfan took her body to Susner from Bhopal while Raj accompanied them. Khelawar soon received a call from Akram, who told him, "Bring your people here, we will bury her tomorrow."
Khelawar reached the police station. On his repeat request, the police brought Rachna's body from Susner to Shujalpur for a post-mortem. Her body returned to Shujalpur after nine hours.
After post-mortem and medical formalities, her body was handed over to Khelawar who performed her last rites as per Hindu rituals.
See Khelawar's statement made to the media, here.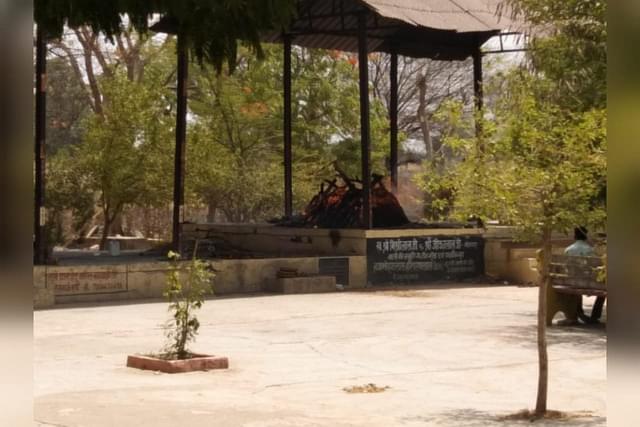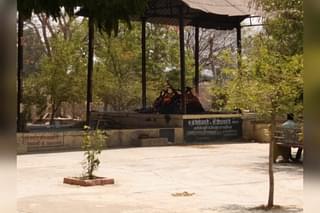 The funeral picture, as shared by Dainik Bhaskar
The police's Version
Alok Paretia, Sub-Inspector, Susner Police station, told this correspondent earlier this week, "The woman from Shujalpur died in Bhopal. Her husband and father-in-law took the dead body to Susner. The woman is a resident of Shujalpur. Her family wanted to perform the last rites as per Hindu customs. The body was handed over to them. Shujalpur police will take further action in the matter." The officer did not share any more details of the case.
The police station in-charge, Premlata Khatri, from the Shujalpur Mandi police station said that on learning about the incident, Shujalpur police spoke to the Susner police in-charge. After mediating between the two families, Shujalpur police received the body from Susner and reached Civil hospital Shujalpur around 11pm on the same day the woman died.
The next day, to maintain law and order, her funeral procession for cremation was taken out under heavy police protection. Irfan and Akram were not allowed to attend the procession as a precautionary measure.
The officer further said that medical reports of Rachna were awaited. "Prima Facie this can be a natural death as there are no marks on her body," an officer from the police station, not wishing to be named, said.
On 7 June, a fresh FIR (number 237/2022) was registered against Irfan and his father Akram at Shujalpur Mandi police station. The complainant was Mohanlal. The two have been booked under IPC sections 304-B, 498A and Madhya Pradesh Freedom of Religion Act, 2020-21 besides relevant sections of the SC-ST Act.
About Irfan
Khelawar told this correspondent that Irfan's maternal uncle lived in Shujalpur's Krishna Nagar area. Irfan shifted to Shujalpur and joined him in his wholesale fruits and vegetables supply business.
After his marriage with Rachna, he first shifted to Ujjain, then to Bhopal and finally to Susner. He did nothing to earn a living. He became a Marijuana addict and began to sell the same. It was the only source of income for him. His uncle and his sister supported him with money when he lived alone with Rachna. His family members never accepted her as their daughter-in-law.
Khelawar said that Rachna told him that Irfan's sister used to visit them often in Bhopal.
Khelawar works as a daily wage labourer and mostly remains out of home. He has four children. Deepak, the eldest son, who works as a driver; Rachna; another daughter Payal, and Raj, who is the youngest of all siblings.
Deepak and Khelawar lived away from their family for work while Khelawar's wife looked after the children. "Rachna always did things that suited her mood. She would always take her own independent decisions. Her mother loved her the most and allowed her to do everything she wanted to," says Khelawar.
He says that she was seeing Irfan in college, despite his strong disapprovals. One day, she came home from college and said she had married him in court. Khelawar says he knew this was a guy from her college. When she made him meet Irfan, he found the truth, Khelawar had seen him in the colony. Rachna was unaware of his true identity.
"He lived a little away from our house and followed her to college. I held her feet to stop her from going with him, but she left."
After that day, Khelawar broke all his ties with Rachna. She was dead to her, as he had to face humiliation in society, he says.
Khelawar says that they only saw Rachna when she returned from his home. While elaborating on her kids Khelawar says he didn't remember their "Muslim names". "Her [Rachna's] daughter never visited our house. We would call her son 'Kanha'," he says. "Kanha was only 18-months-old when she first came home."
He says Rachna told them that Irfan used to beat her up often, and almost every time after smoking Marijuana. She was not allowed to set out of house without burqa. He would also lock her up in a room before leaving the house, saying he suspected that she might go out and meet someone.
Rachna told him that after her conversion, the first thing she was asked to do by the family was to dispose of all the images of Hindu deities she kept in her room.
The family gave her "a book that they considered holy". All the women in the house would assemble in the hall as soon as the azaan began. Even the minor daughter of Rachna was asked to offer namaz always, Rachna told her family.
Khelawar says when Rachna returned home, it was a few months before the circumcision ceremony of her son was scheduled.
He said that after the first police case against Irfan, the court made the administration pay Rachna Rs 2.5 lakh. Khelawar didn't know the compensation was for what (it could be compensation under SC atrocity Act, but the police did not confirm this). "Until that money lasted, Irfan treated her fine. A few months later, he again began beating her up. That's when Rachna left him in June 2021."
"She said they dragged her on the concrete floor as if she was a sack of rice. Her lower body was injured. They took her to the government hospital where her condition deteriorated. Even when she was on medication, she used to do all the housework. For days, she did not take bath. She could not. Her daughter was being looked after by her aunt. No one was there to look after Rachna and her son," Khelawar says.
It was only after she returned home that her condition got better. He said he can show all her medical documents of his visits to Ujjain, Dewas and Bhopal for her treatment. She had caught tuberculosis as well.
He says that when Rachna decided to go with Irfan again, he tried to stop her a lot. He again fell at her feet, but Rachna said she needed to be with both her children.
He says that when she first came home, she did not have any mobile phone for herself. Her ears and neck did not have any ornaments. "She just wore a pair of glass bangles in her hand. Her anklet was fake silver."
Khelawar says that from his little income, he got a pair of gold earrings made for her. He also bought her a pair of anklets. "But when she returned now [in 2022], she was not wearing her jewellery anymore," he says.
After staying with her parents for six months, Rachna was able to walk with support, he says. She was getting better.
Khelawar says that before Rachna left for hospital recently, she left her son with him.
"Kanha is our toy. He makes all of us happy. He is the last memory of my daughter. I will not let him go. I want him to grow up here, right under the watch of his grandparents. I do not want him to go there," he says.
Khelawar says that he is sure that when Irfan returns from jail, he would try to take Kanha from him. "Irfan would marry another woman. I am sure about that too. The court will give him an early bail like they did earlier," he says.
He added, 'If the court would have not given bail to Irfan at first place, this incident would have not happened'.
Also Read: 'False Love Web'. Allahabad HC Rejects Bail Of Muslim Man, Says He Falsely Posed As 'Raj' To Trap Minor Hindu Girl