Releasing a vision document on 'Increasing India's Electronic Exports and Share in GVCs – Global Value Chains' earlier this month, the Minister of State for Electronics and IT, Rajeev Chandrasekhar, pointed to a 'never before opportunity' for the indigenous electronics sector, in a post-Covid world, with new markets and new consumers.
"We are in a world where hardware plays a lesser role in innovation and software plays a more significant role. In this scenario, India has the ability to use its strength in electronics design, systems design along with electronics manufacturing," he said.
India is already the world's second largest manufacturer of mobile phones by volume — 300 million handsets were made in India in fiscal 2020-21.
By implication, India is a consumer of at least that number of mobile microprocessors — though all of them are currently manufactured by mega fabs in Taiwan and other Pacific Rim countries.
Non-official sources speak of a renewal thrust — a sort of ek dhakka aur — to woo large semiconductor manufacturers to set up a fabrication plant in India. Hitherto, the huge capital investment did not make economic sense without a huge local market — but that worm seems to be turning, albeit slowly.
The timing of this new opportunity comes at a historically significant time: November 15 marks 50 years since the commercial availability of the world's first microprocessor or computer-on-a-chip was announced by Intel.
It was the Intel 4004. The company continues to be a global leader in the microchip market. But its success story has a largely-ignored India angle that can now be told.
At Intel, 'India inside'
The IT Minister's recognition that software and system design are possibly more critical than the manufacturing process indicates a subtle shift, a splash of cold reality that was to be expected from someone who has had first-hand knowledge of all elements of the electronic value chain.
Chandrasekhar was part of the core team at Intel which developed the 80486 ("486") processor, having joined the company in 1988 soon after obtaining an MS in Computer Science from Illinois University in the US.
His mentor was another distinguished engineer from India — Vinod Dham — then head of Intel's Microprocessor Group and generally recognized as the "Father of the Pentium chip".
Chandrasekhar worked on the central processor architecture of the Pentium with Dham, before returning to India, where he went on to create divisions of BPL which made India's first mobile phone as well as other consumer electronics products.
On his part, Vinod Dham has interacted with the leadership of the present government in India on all of his visits to India and has been a valuable resource in planning strategies for the electronics industry.
From the 80-386 and 486 series microchips to the Pentium and the long running Xeon family of processor for enterprise systems, Indian talent has been a core component for over 40 years at Intel.
Avtar Saini, a Victoria Jubilee Technical Institute, Mumbai, alumnus, was co-leader of the Pentium US team, General Manager of Intel's Santa Clara ( California) plant and a key talent in migrating the company from 32-bit to 64-bit processing. Returning to India in 1996 to head its South Asia business, Saini helped set up the Intel India development centre in Bengaluru. Ever since then, Intel India has been central to the development of the Xeon processor for server computers: the Xeon chip of 2008, named Dunnington, the first chip with 6 computing cores, was substantially made-in-India.
Later, Ravishankar Kuppuswamy, Intel's Engineering Director, led the development of the 7th generation of Xeon, post 2011.
Indian leadership also steered many of Intel's futuristic technology demonstrators:
Bengaluru-based Vasantha Erraguntla headed the 20 -person India team which provided 50 per cent of the design effort into crafting the world's first chip that clocked one teraflop or one trillion operations per second and had 80 computing cores on board.
When the research was published in the public domain, Vasantha and 8 of her 11 co-authors based in India and US, were of Indian origin.
More recently in 2016, Intel demonstrated a microchip of the future, powered by a solar panel on its face. The Oregon (US) -based team that developed it, was headed by Bangalore University graduate Sriram Vangal. He continues to lead Intel's low-power device research.
"Intel Inside" was a familiar sticker on many PC products for decades. Looking back at the company's half century saga as a microchip leader, one dares suggest 'India Inside' might not be too far off the mark.
At AMD, a resurgence, courtesy Indian talent.
In a famous face-off in the American hired car business, Avis was always beaten for top spot by Hertz. This led Avis to craft a slogan that is now a classic in advertising: 'We are no 2. We try harder'.
In the commercial microprocessor business, AMD has always been a trier, but second to Intel in sales. After many years of less-than-spectacular business, AMD seemed to bounce back, about 10-12 years ago with a series of industry-first products.
Interestingly, the company has not been chary of admitting the role of its Indian engineers in technological comeback. Indian engineers numbering over 80 at twin R&D centres at Hyderabad and Bengaluru, helped speed up AMD's comeback with two low power chips — Ontario and Zacate — that have found favour in the market for portable devices.
More recently at the height of the Covid lockdown last year, AMD's India-based engineers continue to work "from drawing board to mother-board", and help craft the latest EPYC – Milan chip, arguably the world's fastest processor for server applications today.
IBM: 'powered' by India talent
While IBM as an entity has been in and out and then back in India over 60 years, it has been one of the first to learn the value of doing R&D in India and has had a team in India since 1996.
Its flagship remains the Power processor family. A good proportion of the development of the latest Power 10 chip, launched in 2020, took place in India. In fact, in the year prior to its launch — 2019 — IBM India engineers gained 900 global patents in the course of crafting the chip and a few peripherals.
Texas Instruments: flagship signal processing chips 'Made in India'
One day in early August 1985, a bullock cart made the slow journey from Bengaluru's HAL Airport to an office in Sona Towers, on Millers Road, 15 kms away. It carried an imported satellite dish and associated electronics that was to become the first private international gateway for data transmission out of India — and Texas Instruments became the first multinational to own this system and set up a captive R&D centre in India.
It took almost a decade to convince the leadership in Texas, that the fledgling centre could do more than just global support work. The man who convinced TI was the company's first Indian Managing Director Srini Rajam and their first product for Texas Instruments was aptly named Ankur (sapling).
Says Rajam, looking back on his TI years: "It took ten years until 1995 for the India Centre to gain the competency and credibility to be entrusted with the first Full Chip DSP (Digital Signal Processor) Design. The responsibility was earned 'cell by cell' or 'module by module'. The steps taken included Library Cell Design & Characterization, Module Design & Design Compilers, Memory Core Design and finally, the design of a state of the art DSP that would be manufactured and marketed worldwide by Texas Instruments."
Many more chips flowed into the TI product list, devices that were essentially 'made in India': an audio processor, 'Malhar', the world's first single chip modem, 'Sangam'….
In TI's global catalogue, these chips had prosaic part numbers: it was to be many years before the TIs, the IBMs and the Intels of the microprocessor business would admit to their shareholders and to the world, how much of their intellectual property flowed from their India-based centres.
Interestingly Rajam and six of his colleagues, many involved with crafting these TI products, left the company in 2001 to co-found a start-up — Ittiam — which soon earned global recognition as the world's foremost creator of DSP software and system design.
Other wholly Indian chip design houses were to start soon: In 2015, Saankhya Labs, an Indian leader in software radio solutions, rolled out the world's first single chip radio model "Pruthvi" that uses so-called TV White Spaces the unused parts of television broadcast spectrum.
This stamp sized chip can bring internet to rural areas which receive TV signals but have no mobile phone or broadband coverage. IITs at Bombay and Delhi and IIIT Hyderabad, all field-tested the Saankhya solution, named 'Meghdoot' but government ambivalence in releasing White Space for free use is delaying the wider harnessing of this technology.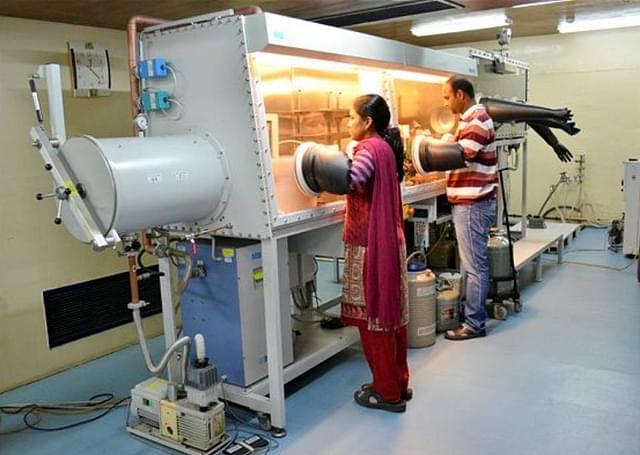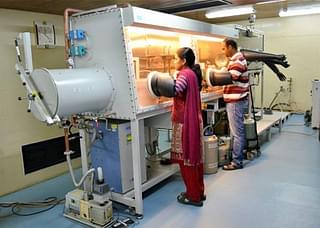 A prototype-scale semiconductor fabrication facility at IIT Kanpur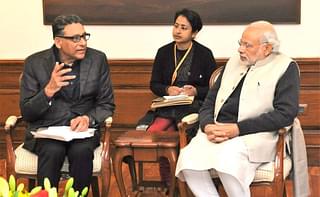 Vinod Dham, Father of the Pentium, with Prime Minister Narendra Modi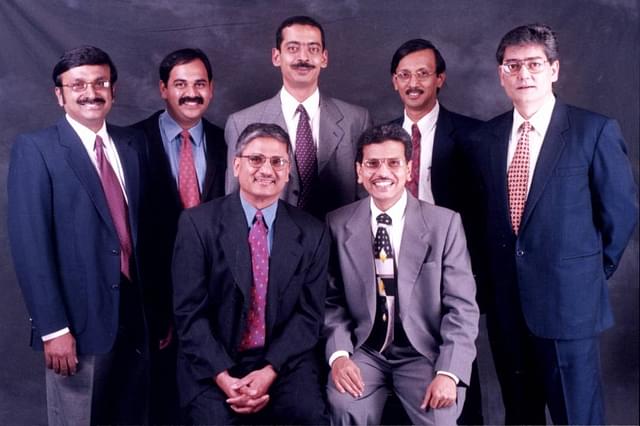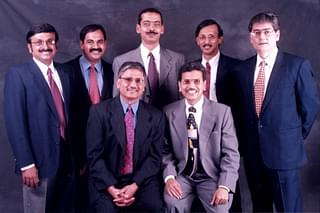 Magnificent Seven: Srini Rajam, Texas Instruments' first Indian head, seated right with six of his team who all went on to cofound Ittiam, now a leader in DSP software.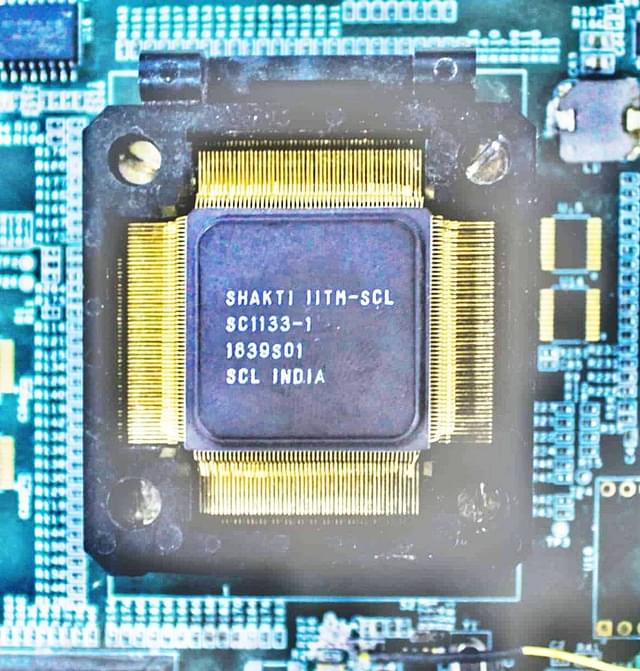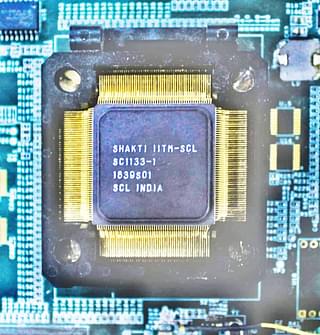 The Shakti microchip developed by IIT Madras was fabricated in SCL, Chandigarh.
The academic entry: chip design at IITs
In other ways too, the IITs are now playing a crucial role in creating an indigenous semiconductor design and manufacturing capability.
In 2019, a team at IIT Bombay designed and fabricated a microprocessor named Ajit. At IIT Madras, they concentrated on developing a chip for low power applications… and delivered Shakti, India's first reduced instruction set or RISC processor.
The latest version, Moushik was released a year ago, in spite of Covid challenges. IIT Kanpur has created a small facility for experimental-scale fabrication.
All these academic initiatives testify to the rich expertise available in India — outside the captive centres of MNCs. The manufacturing fabs currently available at the SemiConductor Laboratory (SCL) in Chandigarh are oriented to meeting strategic requirements of Defence and Space.
But when a major fab finally comes on stream to serve the mass market — and today one can talk of 'when' rather than 'if' — one thing is certain: India needs to look no further for other parts of the semiconductor ecosystem — design, development, testing, validation. It's already on the ground, in Indian hands — and it has a half-century track record to back it.
(For a broader look at 50 years of microprocessor advances, please see the author's contribution, "Chip-ing in!", in the November 2021 issue of Science Reporter).