A recent official engagement in London — between representatives of the Indian National Congress and Mr. Jeremy Corbyn (leader of the British Labour Party, and of their parliamentary opposition) — has created quite a stir.
According to Mr. Corbyn, it was a very productive meeting, in which they discussed the human rights situation in Kashmir and called for an end to fear and violence.
The news item beggared belief because it was unthinkable that the Congress would so openly seek to internationalize a matter entirely internal to India. For this, the Indian Press took the Congress party apart in fine style, and valiant Twitter warriors poured calumny on an Englishman most of them hadn't even heard of until now.
The resultant fallout may have forced a visibly-flustered Anand Sharma of the Congress, to hastily convene a press conference for some serious damage control but what readers must understand, importantly, is that this meeting was in fact preceded by two other unsavory episodes.
Both took place in London, and both have umbilical links with L'affaire Corbyn.
First was an angry protest march towards the Indian High Commission in London, on 15 August 2019. The second was a rather nasty statement issued by the Labour Party, against the abrogation of Article 370. The party statement was bluntly rejected by the Indian Foreign Office.
The march, however, fuelled by Pakistani supporters, and led unapologetically and enthusiastically by Liam Byrne — the Labour MP for the Hodge Hill constituency, Birmingham, turned violent. There was stone-pelting by the protestors, vandalism, and the High Commission building was damaged.
Such incidents are almost unheard of amongst Commonwealth countries. Thus, while Indians are right to be horribly affronted by these developments, a good analyst would be better advised to try and decipher why such curious moves are happening in Britain of all places.
The answer sadly lies in British domestic politics.
As things stand today, Britain is hopelessly divided over whether to leave the European Union or not and if yes, how? It is a political quagmire that has already ended the careers of two Prime Ministers and looks set to end a few more before the issue is resolved.
Mid-term general elections were therefore called in 2017 to provide a clear direction to the British government. Instead, it threw up a hung verdict across 650 seats (see Table 1).


<b>Table 1:</b> 2017 British General Election Results [Halfway: 325]
The vote share difference between the Labour and the ruling Conservative Party was hardly two per cent. The maximum victory margin in around 100 constituencies too, was under two per cent. This shows that the fight was very, very tight.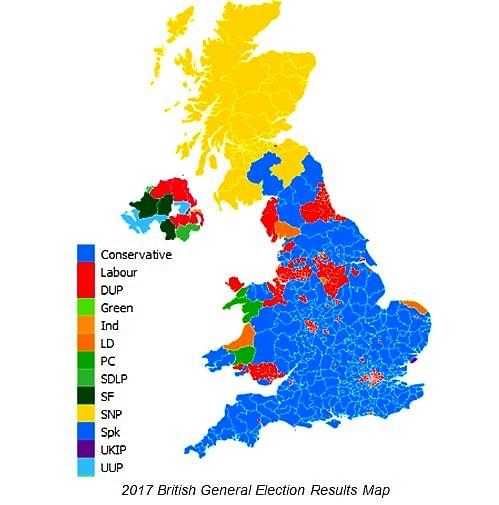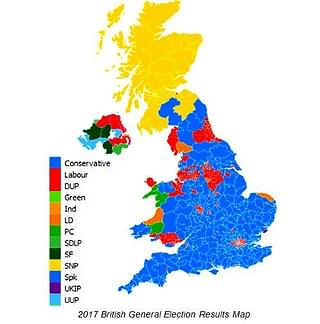 2017 British General Election Results Map
The Labour Party gained 30 seats to deny the Conservatives a majority.
And in that gain lies the story of why Jeremy Corbyn and his party would so ostensibly and senselessly invite the Indian National Congress (INC), to an official meeting inimical to India, join a Pakistani-fuelled violent protest on a Commonwealth diplomatic establishment, or issue a formal statement against India's interests.
The simple truth is that many vital Labour gains were made on the back of the Muslim vote in Britain. This reality of electoral expediency is what has forced the Labour Party to become oddly estranged from British foreign policy, and indeed, like in the examples above, act contrary to the government line at times.
Here are the numbers.
As per the 2011 census, using a cut-off of 10 per cent, there is an electorally significant Muslim population in around 90 parliamentary constituencies. An overwhelming beneficiary of such demographics is the Labour Party.
In 2017, if we take the results of the top 80 constituencies with a sizeable Muslim presence, Labour swept every single such seat save two — Pendle and the Cities of London and Westminster! In addition, the seats of Peterborough and Kensington were returned as Labour gains.
Looking at the 2017 results by percentage victory margin, the dependency of the Labour Party on religious demographics becomes even more apparent. All the 30 biggest victories of 2017 were registered by Labour candidates.
And 21 of these 30 victories were in seats with either a significant Muslim presence or a Muslim majority!
At the other end of the spectrum, Labour gained Kensington seat in London Borough from the Conservatives, by a margin of just 20 votes. The Muslim vote share there is 11 per cent.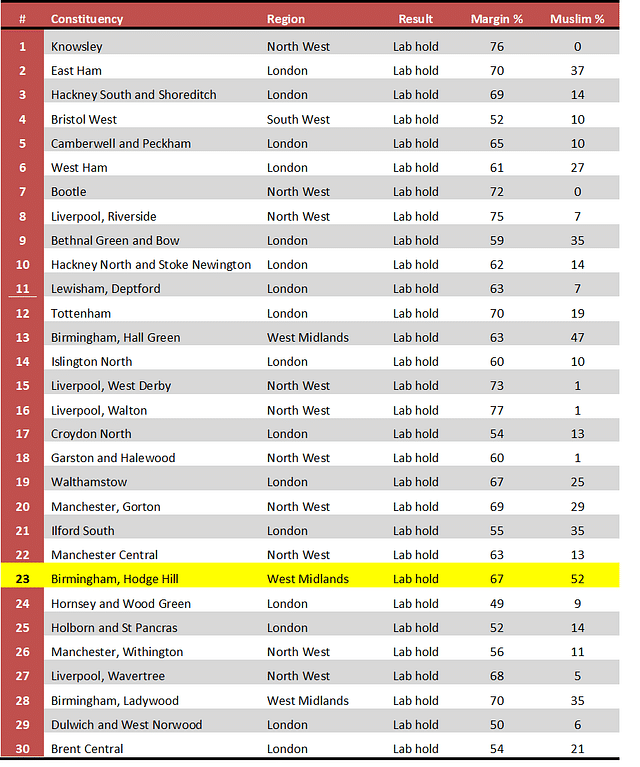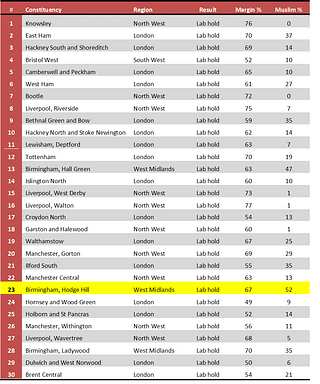 <b>Table 2:</b> 2017 British General Election Results: Top 30 victories by percentage margin.
The statistics for Birmingham Hodge Hill constituency, at serial number 23 in Table 2 above, explain the presence of Mr. Liam Byrne, MP, at the violent march upon the Indian High Commission in August 2019.
Considering historical voting patterns, where the victory margins are usually miniscule, this influence of the Muslim vote in British politics may, in fact, be greater than presently appreciated.
This is because the British Muslim population has a higher growth rate and changes in voting patterns by even a few thousand, can have a large impact on outcomes. The tighter the fight, the more strongly the Muslim vote will get amplified.
And in this regard, the Labour Party's similarities with Indian political parties, who too profited from vote-banks (like the Congress, Samajwadi, Rashtriya Janata Dal, Trinamool and others), converges on the extraordinary.
Looking forward, with the prospects of another general election looming, and as the electorate in Britain gets further polarized over Brexit, the Labour Party will become increasingly dependent upon the Muslim vote to garner the popular mandate.
Consequently, it does not seem so senseless if a political party does what is required to win every vote in a close contest. As all Indians know, morality has a funny way of passing politicians by, when their re-elections are at stake!
In another cosmic dimension, devoid of cross-border terrorism, or minority appeasement, or vote-banks, those Indians might even have found the Labour Party's acts admirably pragmatic.
But a deterioration in Indo-Anglian ties is no laughing matter; it has geostrategic implications and consequences. So, if elements of the British Labour Party's foreign policy are subsumed by domestic electoral compulsions, then sadly, India will be forced to absorb such dramatic shifts into her own foreign policy formulations.
That is until the British electorate wakes up and recognizes the real dangers that arise when a matter wholly internal to India strangely becomes a matter internal to Britain.